Bleeding Edge informatie
Serie: War of the Spark (WAR)
Rarity: Uncommon
Geef commentaar op Bleeding Edge
Bleeding Edge komt voor in
Serie
Normaal
Foil
War of the Spark

8

0,20

2

0,60
Wie ruilt deze kaart

[]
Nickname
#
Foil
Rogier (9)
1
0
Marcel (57)
1
0
Patrick (101)
3
0
Piet Kempenaar (10)
1
0
* Dit is het aanbod van Bleeding Edge uit War of the Spark. Als een kaart in meerdere series zit kun je die apart aanklikken hierboven. Klik op de getallen om direct naar iemands collectie te gaan. De leden die het meest recent zijn ingelogd staan bovenaan. Leden die meer dan 14 dagen niet zijn ingelogd worden niet vermeld.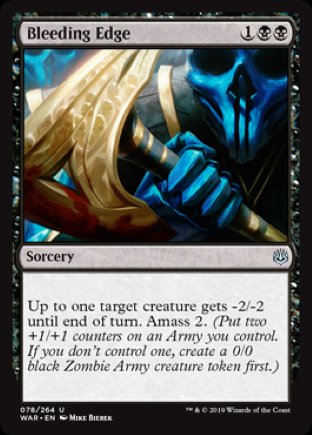 Oracle tekst

Sorcery
Up to one target creature gets -2/-2 until end of turn. Amass 2. (Put two +1/+1 counters on an Army you control. If you don't control one, create a 0/0 black Zombie Army creature token first.)

Rating na 0 stemmen

Er is nog niet op deze kaart gestemd.

Tournooi info

Legal in: Standard, Modern, Legacy, Vintage, Commander

Officiele rulings

5/3/2019
You may cast Bleeding Edge without choosing a target creature. Youíll just amass 2. However, if you choose a target and that target become illegal before Bleeding Edge resolves, the spell wonít resolve and you wonít amass.

5/3/2019
Army is a new creature type. Itís possible to control a nontoken Army (perhaps a creature with the changeling ability) and, through combinations of other cards, itís possible to control multiple Army tokens. When instructed to amass, you may put +1/+1 counters on any of your Army creatures, and you may choose a different one each time.

5/3/2019
If you donít control an Army, the Zombie Army token that you create enters the battlefield as a 0/0 creature. Any abilities that trigger when a creature with a certain power enters the battlefield, such as that of Mentor of the Meek, will see the token enter as a 0/0 creature before it gets +1/+1 counters.



NederMagic denkt mee

We hebben alle decks op de site voor je doorzocht en gekeken welke 20 kaarten het meest met Bleeding Edge samen worden gespeeld.
Klik hier voor het lijstje

Geef commentaar op Bleeding Edge
Zoek decks met Bleeding Edge
Bleeding Edge toevoegen aan je watchlist:
Versie uit War of the Spark / Alle versies