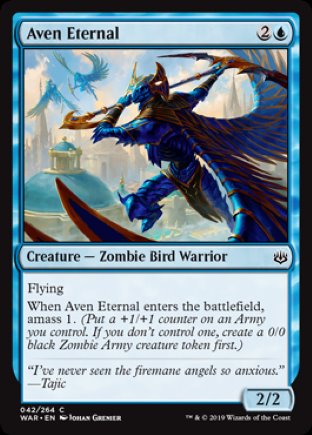 Oracle tekst

Creature - Zombie Bird Warrior 2 / 2
Flying
When Aven Eternal enters the battlefield, amass 1. (Put a +1/+1 counter on an Army you control. If you don't control one, create a 0/0 black Zombie Army creature token first.)

Rating na 0 stemmen

Er is nog niet op deze kaart gestemd.

Tournooi info

Legal in: Standard, Modern, Legacy, Vintage, Commander

Officiele rulings

5/3/2019
Army is a new creature type. Itís possible to control a nontoken Army (perhaps a creature with the changeling ability) and, through combinations of other cards, itís possible to control multiple Army tokens. When instructed to amass, you may put +1/+1 counters on any of your Army creatures, and you may choose a different one each time.

5/3/2019
If you donít control an Army, the Zombie Army token that you create enters the battlefield as a 0/0 creature. Any abilities that trigger when a creature with a certain power enters the battlefield, such as that of Mentor of the Meek, will see the token enter as a 0/0 creature before it gets +1/+1 counters.



NederMagic denkt mee

We hebben alle decks op de site voor je doorzocht en gekeken welke 20 kaarten het meest met Aven Eternal samen worden gespeeld.
Klik hier voor het lijstje

Geef commentaar op Aven Eternal
Zoek decks met Aven Eternal
Aven Eternal toevoegen aan je watchlist:
Versie uit War of the Spark / Alle versies