Incubation Druid informatie
Serie: Ravnica Allegiance (RNA)
Rarity: Rare
Geef commentaar op Incubation Druid
Incubation Druid komt voor in
Serie
Normaal
Foil
Ravnica Allegiance

-

3,95

1

7,95
Wie ruilt deze kaart

[]
Nickname
#
Foil
Kenny (3)
4
0
Erick
1
0
monk (122)
1
0
Boris (Diemen/Amsterdam) (58)
1
0
Marnix14 (Eindhoven) (17)
1
0
Martin (99)
2
0
sensitizer
0
1
Dirk (41)
1
0
cmpunk (69)
1
0
T (103)
1
0
Jacinto (47)
1
0
* Dit is het aanbod van Incubation Druid uit Ravnica Allegiance. Als een kaart in meerdere series zit kun je die apart aanklikken hierboven. Klik op de getallen om direct naar iemands collectie te gaan. De leden die het meest recent zijn ingelogd staan bovenaan. Leden die meer dan 14 dagen niet zijn ingelogd worden niet vermeld.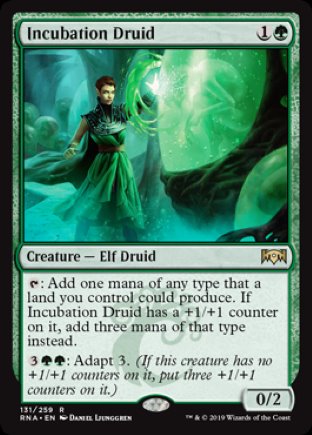 Oracle tekst

Creature - Elf Druid 0 / 2
T: Add one mana of any type that a land you control could produce. If Incubation Druid has a +1/+1 counter on it, add three mana of that type instead.
3GG: Adapt 3. (If this creature has no +1/+1 counters on it, put three +1/+1 counters on it.)

Rating na 0 stemmen

Er is nog niet op deze kaart gestemd.

Tournooi info

Legal in: Standard, Modern, Legacy, Vintage, Commander

Officiele rulings

1/25/2019
The types of mana are white, blue, black, red, green, and colorless.

1/25/2019
Any change to a land's type or abilities gained by a land can affect the types of mana a land can produce.

1/25/2019
Incubation Druid checks the effects of all mana-producing abilities of lands you control, but it doesn't check their costs or legality. For example, Spire of Industry says "T, Pay 1 life: Add one mana of any color. Activate this ability only if you control an artifact." If you control Spire of Industry and Incubation Druid, you can tap Incubation Druid for any color of mana. It doesn't matter whether you control an artifact, whether you can pay 1 life, or whether Spire of Industry is untapped.

1/25/2019
Incubation Druid doesn't care about any restrictions or riders your lands put on the mana they produce, such as those of Unclaimed Territory and Guildmages' Forum. It just produces one mana of the appropriate type, with no restrictions or riders.

1/25/2019
You can always activate an ability that will cause a creature to adapt. As that ability resolves, if the creature has a +1/+1 counter on it for any reason, you simply won't put any +1/+1 counters on it.

1/25/2019
If a creature somehow loses all of its +1/+1 counters, it can adapt again and get more +1/+1 counters.



NederMagic denkt mee

We hebben alle decks op de site voor je doorzocht en gekeken welke 20 kaarten het meest met Incubation Druid samen worden gespeeld.
Klik hier voor het lijstje

Geef commentaar op Incubation Druid
Zoek decks met Incubation Druid
Incubation Druid toevoegen aan je watchlist:
Versie uit Ravnica Allegiance / Alle versies