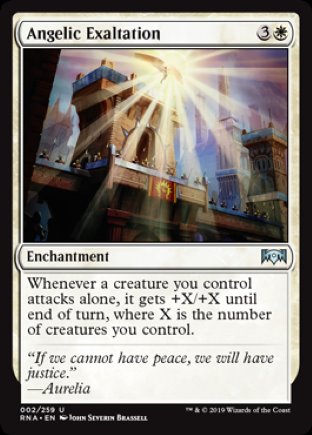 Oracle tekst

Enchantment
Whenever a creature you control attacks alone, it gets +X/+X until end of turn, where X is the number of creatures you control.

Rating na 0 stemmen

Er is nog niet op deze kaart gestemd.

Tournooi info

Legal in: Standard, Modern, Legacy, Vintage, Commander

Officiele rulings

1/25/2019
A creature attacks alone if itís the only creature declared as an attacker during the declare attackers step (including creatures controlled by your teammates, if applicable). For example, Angelic Exaltationís ability wonít trigger if you attack with multiple creatures and all but one of them are removed from combat.

1/25/2019
The value of X is determined only as Angelic Exaltationís ability begins to resolve. It wonít change later in the turn if the number of creatures you control changes.



NederMagic denkt mee

We hebben alle decks op de site voor je doorzocht en gekeken welke 20 kaarten het meest met Angelic Exaltation samen worden gespeeld.
Klik hier voor het lijstje

Geef commentaar op Angelic Exaltation
Zoek decks met Angelic Exaltation
Angelic Exaltation toevoegen aan je watchlist:
Versie uit Ravnica Allegiance / Alle versies