Dream Eater informatie
Serie: Guilds of Ravnica (GRN)
Rarity: Mythic
Geef commentaar op Dream Eater
Dream Eater komt voor in
Serie
Normaal
Foil
Guilds of Ravnica

2

2,50

-

13,90
Wie ruilt deze kaart

[]
Nickname
#
Foil
adje13 (21)
1
1
wvttk (138)
1
0
Laurens (29)
1
0
Kenta (9)
1
0
Tom S (Almere) (106)
1
0
TeiZ (Castricum) (14)
0
1
Enraged Wookie (40)
1
0
Kobbe (40)
1
0
Dennis (Lelystad)
1
0
Tim,The Holy day Collector (15)
1
0
Nathan (13)
1
0
Tim H
1
0
* Dit is het aanbod van Dream Eater uit Guilds of Ravnica. Als een kaart in meerdere series zit kun je die apart aanklikken hierboven. Klik op de getallen om direct naar iemands collectie te gaan. De leden die het meest recent zijn ingelogd staan bovenaan. Leden die meer dan 14 dagen niet zijn ingelogd worden niet vermeld.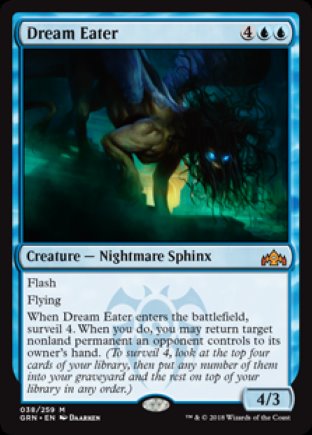 Oracle tekst

Creature - Nightmare Sphinx 4 / 3
Flash
Flying
When Dream Eater enters the battlefield, surveil 4. When you do, you may return target nonland permanent an opponent controls to its owner's hand. (To surveil 4, look at the top four cards of your library, then put any number of them into your graveyard and the rest on top of your library in any order.)

Rating na 1 stemmen












Tournooi info

Legal in: Standard, Modern, Legacy, Vintage, Commander

Officiele rulings

10/5/2018
Dream Eater's triggered ability goes on the stack without a target. While that ability is resolving, after you've surveilled, the reflexive triggered ability triggers and you pick a target nonland permanent to be returned to its owner's hand. This is different from effects that say "If you do . . ." in that you choose the target after having surveilled.

10/5/2018
Dream Eater's reflexive triggered ability triggers even if you have fewer than four cards in your library to surveil.

10/5/2018
When you surveil, you may put all the cards you look at back on top of your library, you may put all of those cards into your graveyard, or you may put some of those cards on top and the rest of them into your graveyard.

10/5/2018
You perform the actions stated on a card in sequence. For some spells and abilities, you'll surveil last. For others, you'll surveil and then perform other actions.



NederMagic denkt mee

We hebben alle decks op de site voor je doorzocht en gekeken welke 20 kaarten het meest met Dream Eater samen worden gespeeld.
Klik hier voor het lijstje

Geef commentaar op Dream Eater
Zoek decks met Dream Eater
Dream Eater toevoegen aan je watchlist:
Versie uit Guilds of Ravnica / Alle versies