Dawn of Hope informatie
Serie: Guilds of Ravnica (GRN)
Rarity: Rare
Geef commentaar op Dawn of Hope
Dawn of Hope komt voor in
Serie
Normaal
Foil
Guilds of Ravnica

1

1,00

-

2,25
Wie ruilt deze kaart

[]
Nickname
#
Foil
Rens van hout
1
0
Roland (82)
2
0
Roy (178)
1
0
Freaklin (44)
1
0
Red (85)
1
0
Martin (99)
2
0
spierenburg (28)
1
0
Anne-jan van aperlo (30)
1
0
Dennis (Lelystad)
1
0
Roald (73)
1
0
Robbie (101)
2
0
Tim H
2
0
Kenny (3)
2
0
* Dit is het aanbod van Dawn of Hope uit Guilds of Ravnica. Als een kaart in meerdere series zit kun je die apart aanklikken hierboven. Klik op de getallen om direct naar iemands collectie te gaan. De leden die het meest recent zijn ingelogd staan bovenaan. Leden die meer dan 14 dagen niet zijn ingelogd worden niet vermeld.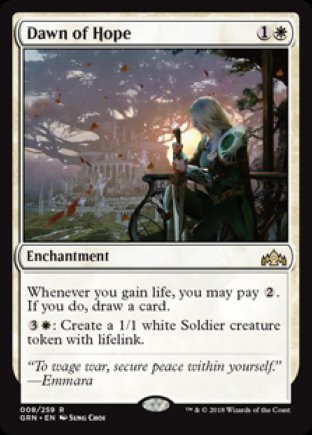 Oracle tekst

Enchantment
Whenever you gain life, you may pay 2. If you do, draw a card.
3W: Create a 1/1 white Soldier creature token with lifelink.

Rating na 0 stemmen

Er is nog niet op deze kaart gestemd.

Tournooi info

Legal in: Standard, Modern, Legacy, Vintage, Commander

Officiele rulings

10/5/2018
Dawn of Hopeís first ability triggers just once for each life-gaining event, whether itís 1 life from Vicious Rumors or 3 life from Creeping Chill.

10/5/2018
You canít pay 2 multiple times to draw more than one card each time you resolve Dawn of Hopeís triggered ability.

10/5/2018
Each creature with lifelink dealing combat damage causes a separate life-gaining event. For example, if two creatures you control with lifelink deal combat damage at the same time, Dawn of Hopeís ability will trigger twice. However, if a single creature you control with lifelink deals combat damage to multiple creatures, players, and/or planeswalkers at the same time (perhaps because it has trample or was blocked by more than one creature), the ability will trigger only once.

10/5/2018
If you gain an amount of life ďfor eachĒ of something, that life is gained as one event and Dawn of Hopeís first ability triggers only once.

10/5/2018
In a Two-Headed Giant game, life gained by your teammate wonít cause the ability to trigger, even though it caused your teamís life total to increase.



NederMagic denkt mee

We hebben alle decks op de site voor je doorzocht en gekeken welke 20 kaarten het meest met Dawn of Hope samen worden gespeeld.
Klik hier voor het lijstje

Geef commentaar op Dawn of Hope
Zoek decks met Dawn of Hope
Dawn of Hope toevoegen aan je watchlist:
Versie uit Guilds of Ravnica / Alle versies