Beacon Bolt informatie
Serie: Guilds of Ravnica (GRN)
Rarity: Uncommon
Geef commentaar op Beacon Bolt
Beacon Bolt komt voor in
Serie
Normaal
Foil
Guilds of Ravnica

8

0,25

-

0,50
Wie ruilt deze kaart

[]
Nickname
#
Foil
Ingmar (34)
1
1
Patrick (101)
2
0
Amras (19)
1
0
* Dit is het aanbod van Beacon Bolt uit Guilds of Ravnica. Als een kaart in meerdere series zit kun je die apart aanklikken hierboven. Klik op de getallen om direct naar iemands collectie te gaan. De leden die het meest recent zijn ingelogd staan bovenaan. Leden die meer dan 14 dagen niet zijn ingelogd worden niet vermeld.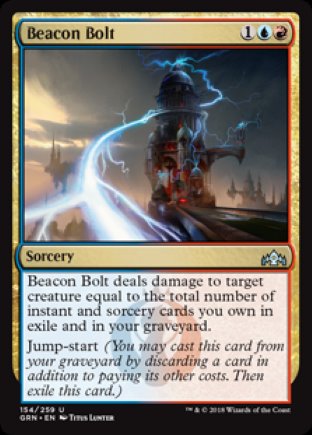 Oracle tekst

Sorcery
Beacon Bolt deals damage to target creature equal to the total number of instant and sorcery cards you own in exile and in your graveyard.
Jump-start (You may cast this card from your graveyard by discarding a card in addition to paying its other costs. Then exile this card.)

Rating na 0 stemmen

Er is nog niet op deze kaart gestemd.

Tournooi info

Legal in: Standard, Modern, Legacy, Vintage, Commander

Officiele rulings

10/5/2018
Beacon Bolt is still on the stack while you count your instant and sorcery cards in your graveyard and in exile. It doesnít count itself.

10/5/2018
If any exiled cards you own are face down, they have no characteristics. If theyíre normally instants or sorceries, they wonít be counted.

10/5/2018
You must still follow any timing restrictions and permissions, including those based on the cardís type. For instance, you can cast a sorcery using jump-start only when you could normally cast a sorcery.

10/5/2018
A spell cast using jump-start will always be exiled afterward, whether it resolves, itís countered, or it leaves the stack in some other way.

10/5/2018
If an effect allows you to pay an alternative cost rather than a spellís mana cost, you may pay that alternative cost when you jump-start a spell. Youíll still discard a card as an additional cost to cast it.

10/5/2018
If a card with jump-start is put into your graveyard during your turn, youíll be able to cast it right away if itís legal to do so, before an opponent can take any actions.



NederMagic denkt mee

We hebben alle decks op de site voor je doorzocht en gekeken welke 20 kaarten het meest met Beacon Bolt samen worden gespeeld.
Klik hier voor het lijstje

Geef commentaar op Beacon Bolt
Zoek decks met Beacon Bolt
Beacon Bolt toevoegen aan je watchlist:
Versie uit Guilds of Ravnica / Alle versies