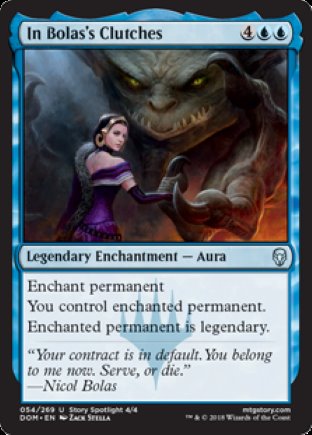 Oracle tekst

Legendary Enchantment - Aura
Enchant permanent
You control enchanted permanent.
Enchanted permanent is legendary.

Rating na 0 stemmen

Er is nog niet op deze kaart gestemd.

Tournooi info

Legal in: Standard, Modern, Legacy, Vintage, Commander

Officiele rulings

4/27/2018
Gaining control of a permanent doesnít cause you to gain control of any Auras or Equipment attached to it. Theyíll remain attached, but an Auraís effect that affects ďyouĒ still affects its controller rather than you, the controller of an Equipment can move it during their next main phase, and so on.

4/27/2018
If you control two In Bolasís Clutches attached to two permanents with the same name, the ďlegend ruleĒ applies to the enchanted permanents and to In Bolasís Clutches at once. You can choose to keep the In Bolasís Clutches that enchants the permanent you wish to keep.

4/27/2018
If you control two or more permanents with the same name but only one is legendary, the ďlegend ruleĒ doesnít apply.



NederMagic denkt mee

We hebben alle decks op de site voor je doorzocht en gekeken welke 20 kaarten het meest met In Bolasís Clutches samen worden gespeeld.
Klik hier voor het lijstje

Geef commentaar op In Bolasís Clutches
Zoek decks met In Bolasís Clutches
In Bolasís Clutches toevoegen aan je watchlist:
Versie uit Dominaria / Alle versies