Grunn, the Lonely King informatie
Serie: Dominaria (DOM)
Rarity: Uncommon
Geef commentaar op Grunn, the Lonely King
Grunn, the Lonely King komt voor in
Serie
Normaal
Foil
Dominaria

8

0,15

-

0,50
Wie ruilt deze kaart

[]
Nickname
#
Foil
Marcel (57)
1
0
Paulus
1
0
Patrick (101)
5
0
Duncan (235)
5
0
Ruud (Haarlem) (60)
1
0
* Dit is het aanbod van Grunn, the Lonely King uit Dominaria. Als een kaart in meerdere series zit kun je die apart aanklikken hierboven. Klik op de getallen om direct naar iemands collectie te gaan. De leden die het meest recent zijn ingelogd staan bovenaan. Leden die meer dan 14 dagen niet zijn ingelogd worden niet vermeld.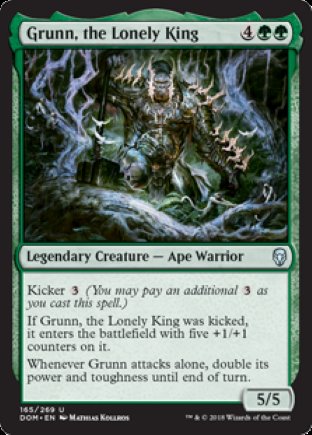 Oracle tekst

Legendary Creature - Ape Warrior 5 / 5
Kicker 3 (You may pay an additional 3 as you cast this spell.)
If Grunn, the Lonely King was kicked, it enters the battlefield with five +1/+1 counters on it.
Whenever Grunn attacks alone, double its power and toughness until end of turn.

Rating na 0 stemmen

Er is nog niet op deze kaart gestemd.

Tournooi info

Legal in: Standard, Modern, Legacy, Vintage, Commander

Officiele rulings

4/27/2018
If an effect instructs you to ďdoubleĒ a creatureís power, that creature gets +X/+0, where X is its power as that effect begins to apply. The same is true for its toughness.

4/27/2018
If a creatureís power is less than 0 when itís doubled, instead that creature gets -X/-0, where X is how much less than 0 its power is. For example, if an effect has given Grunn -7/-0 so that itís a -2/5 creature, doubling its power and toughness gives it -2/+5, and itís a -4/10 until end of turn.

4/27/2018
A creature attacks alone if itís the only creature declared as an attacker during the declare attackers step (including creatures controlled by your teammates, if applicable). For example, Grunnís last ability wonít trigger if you attack with multiple creatures and all but one of them are removed from combat.



NederMagic denkt mee

We hebben alle decks op de site voor je doorzocht en gekeken welke 20 kaarten het meest met Grunn, the Lonely King samen worden gespeeld.
Klik hier voor het lijstje

Geef commentaar op Grunn, the Lonely King
Zoek decks met Grunn, the Lonely King
Grunn, the Lonely King toevoegen aan je watchlist:
Versie uit Dominaria / Alle versies