Chainerís Torment informatie
Serie: Dominaria (DOM)
Rarity: Uncommon
Geef commentaar op Chainerís Torment
Chainerís Torment komt voor in
Serie
Normaal
Foil
Dominaria

8

0,20

-

0,75
Wie ruilt deze kaart

[]
Nickname
#
Foil
Marcel (57)
3
0
Nessix (2)
3
0
Dennis (Lelystad)
1
0
Patrick (101)
1
0
Duncan (235)
3
0
Amras (19)
1
0
* Dit is het aanbod van Chainerís Torment uit Dominaria. Als een kaart in meerdere series zit kun je die apart aanklikken hierboven. Klik op de getallen om direct naar iemands collectie te gaan. De leden die het meest recent zijn ingelogd staan bovenaan. Leden die meer dan 14 dagen niet zijn ingelogd worden niet vermeld.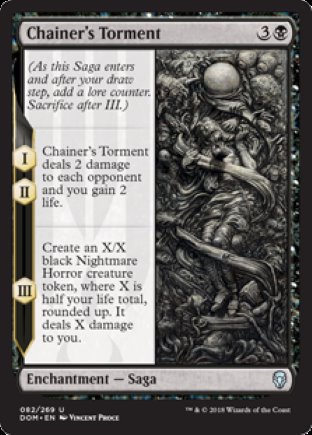 Oracle tekst

Enchantment - Saga
(As this Saga enters and after your draw step, add a lore counter. Sacrifice after III.)
I, II - Chainer's Torment deals 2 damage to each opponent and you gain 2 life.
III - Create an X/X black Nightmare Horror creature token, where X is half your life total, rounded up. It deals X damage to you.

Rating na 0 stemmen

Er is nog niet op deze kaart gestemd.

Tournooi info

Legal in: Standard, Modern, Legacy, Vintage, Commander

Officiele rulings

4/27/2018
If another effect causes the Nightmare Horror tokenís power or toughness to be a number other than X immediately after it enters the battlefield, the amount of damage it deals to you is still X, not its modified power or toughness.

4/27/2018
If an effect such as that of Anointed Procession causes the final chapter ability of Chainerís Torment to create two Nightmare Horror tokens, each will deal X damage to you.

4/27/2018
In a Two-Headed Giant game, the first chapter abilities of Chainerís Torment each cause the opposing team to lose 4 life and you to gain 2 life.

4/27/2018
As a Saga enters the battlefield, its controller puts a lore counter on it. As your precombat main phase begins (immediately after your draw step), you put another lore counter on each Saga you control. Putting a lore counter on a Saga in either of these ways doesnít use the stack.

4/27/2018
Each symbol on the left of a Sagaís text box represents a chapter ability. A chapter ability is a triggered ability that triggers when a lore counter that is put on the Saga causes the number of lore counters on the Saga to become equal to or greater than the abilityís chapter number. Chapter abilities are put onto the stack and may be responded to.

4/27/2018
A chapter ability doesnít trigger if a lore counter is put on a Saga that already had a number of lore counters greater than or equal to that chapterís number. For example, the third lore counter put on a Saga causes the III chapter ability to trigger, but I and II wonít trigger again.

4/27/2018
Once a chapter ability has triggered, the ability on the stack wonít be affected if the Saga gains or loses counters, or if it leaves the battlefield.

4/27/2018
If multiple chapter abilities trigger at the same time, their controller puts them on the stack in any order. If any of them require targets, those targets are chosen as you put the abilities on the stack, before any of those abilities resolve.

4/27/2018
If counters are removed from a Saga, the appropriate chapter abilities will trigger again when the Saga receives lore counters. Removing lore counters wonít cause a previous chapter ability to trigger.

4/27/2018
Once the number of lore counters on a Saga is greater than or equal to the greatest number among its chapter abilities-in the Dominaria set, this is always three-the Sagaís controller sacrifices it as soon as its chapter ability has left the stack, most likely by resolving or being countered. This state-based action doesnít use the stack.



NederMagic denkt mee

We hebben alle decks op de site voor je doorzocht en gekeken welke 20 kaarten het meest met Chainerís Torment samen worden gespeeld.
Klik hier voor het lijstje

Geef commentaar op Chainerís Torment
Zoek decks met Chainerís Torment
Chainerís Torment toevoegen aan je watchlist:
Versie uit Dominaria / Alle versies