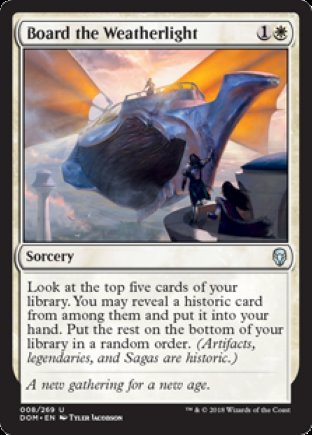 Oracle tekst

Sorcery
Look at the top five cards of your library. You may reveal a historic card from among them and put it into your hand. Put the rest on the bottom of your library in a random order. (Artifacts, legendaries, and Sagas are historic.)

Rating na 0 stemmen

Er is nog niet op deze kaart gestemd.

Tournooi info

Legal in: Standard, Modern, Legacy, Vintage, Commander

Officiele rulings

4/27/2018
A card, spell, or permanent is historic if it has the legendary supertype, the artifact card type, or the Saga subtype. Having two of those qualities doesnít make an object more historic than another or provide an additional bonus-an object either is historic or it isnít.



NederMagic denkt mee

We hebben alle decks op de site voor je doorzocht en gekeken welke 20 kaarten het meest met Board the Weatherlight samen worden gespeeld.
Klik hier voor het lijstje

Geef commentaar op Board the Weatherlight
Zoek decks met Board the Weatherlight
Board the Weatherlight toevoegen aan je watchlist:
Versie uit Dominaria / Alle versies