Profane Procession informatie
Serie: Rivals of Ixalan (RIX)
Rarity: Rare
Geef commentaar op Profane Procession
Profane Procession komt voor in
Serie
Normaal
Foil
Rivals of Ixalan

6

1,50

-

3,95
Wie ruilt deze kaart

[]
Nickname
#
Foil
Duncan (231)
1
0
Xander (32)
1
0
* Dit is het aanbod van Profane Procession uit Rivals of Ixalan. Als een kaart in meerdere series zit kun je die apart aanklikken hierboven. Klik op de getallen om direct naar iemands collectie te gaan. De leden die het meest recent zijn ingelogd staan bovenaan. Leden die meer dan 14 dagen niet zijn ingelogd worden niet vermeld.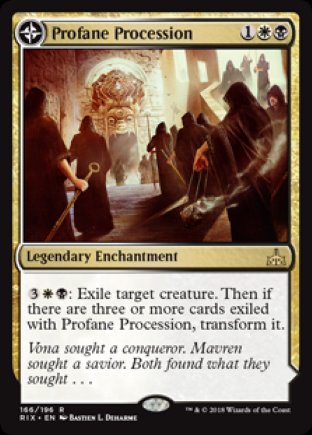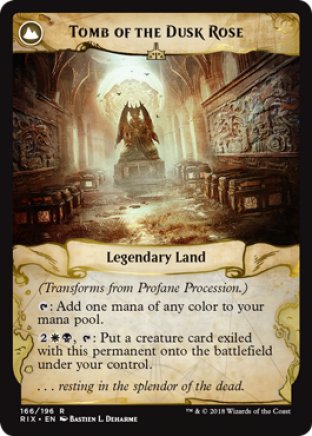 Oracle tekst

Legendary Enchantment
3WB: Exile target creature. Then if there are three or more cards exiled with Profane Procession, transform it.

Rating na 0 stemmen

Er is nog niet op deze kaart gestemd.

Officiele rulings

1/19/2018
Profane Processionís ability can exile token creatures. They wonít count towards the number of cards exiled with it.

1/19/2018
If you have enough mana, you can activate Profane Processionís ability multiple times before any activation resolves. It will be transformed if one activation exiles the third card. Further activations waiting to resolve wonít cause Tomb of the Dusk Rose to transform back into Profane Procession, but they will exile creatures that Tomb of the Dusk Rose can bring back.

1/19/2018
For more information on double-faced cards, see the Ixalan mechanics article (http://magic.wizards.com/en/articles/archive/feature/ixalan-mechanics).

1/19/2018
If Profane Procession or Tomb of the Dusk Rose somehow has exiled cards other than with Profane Processionís ability, those exiled cards arenít linked to Tomb of the Dusk Roseís second ability. They canít be put onto the battlefield with that ability.

1/19/2018
In a multiplayer game, if a player leaves the game, all cards that player owns leave as well. If you leave the game, any permanents you control from Tomb of the Dusk Roseís ability are exiled.



NederMagic denkt mee

We hebben alle decks op de site voor je doorzocht en gekeken welke 20 kaarten het meest met Profane Procession samen worden gespeeld.
Klik hier voor het lijstje

Geef commentaar op Profane Procession
Zoek decks met Profane Procession
Profane Procession toevoegen aan je watchlist:
Versie uit Rivals of Ixalan / Alle versies