Jadelight Ranger informatie
Serie: Rivals of Ixalan (RIX)
Rarity: Rare
Geef commentaar op Jadelight Ranger
Jadelight Ranger komt voor in
Serie
Normaal
Foil
Rivals of Ixalan

6

6,95

-

14,95
Wie ruilt deze kaart

[]
Nickname
#
Foil
Dr. Sanchez (1)
1
0
* Dit is het aanbod van Jadelight Ranger uit Rivals of Ixalan. Als een kaart in meerdere series zit kun je die apart aanklikken hierboven. Klik op de getallen om direct naar iemands collectie te gaan. De leden die het meest recent zijn ingelogd staan bovenaan. Leden die meer dan 14 dagen niet zijn ingelogd worden niet vermeld.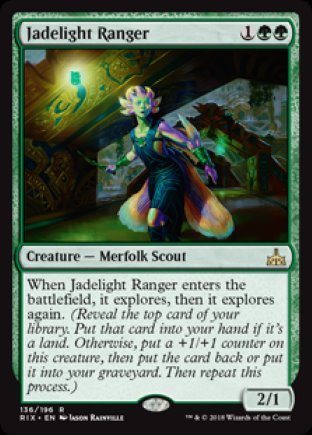 Oracle tekst

Creature - Merfolk Scout 2 / 1
When Jadelight Ranger enters the battlefield, it explores, then it explores again. (Reveal the top card of your library. Put that card into your hand if it's a land. Otherwise, put a +1/+1 counter on this creature, then put the card back or put it into your graveyard. Then repeat this process.)

Rating na 0 stemmen

Er is nog niet op deze kaart gestemd.

Officiele rulings

1/19/2018
If you reveal a nonland card the first time Jadelight Ranger explores and leave it on top of your library, youíll reveal the same card the second time it explores. If you donít pretend to be surprised, youíll hurt Jadelight Rangerís feelings.

1/19/2018
Once an ability that causes a creature to explore begins to resolve, no player may take any other actions until itís done. Notably, opponents canít try to remove the exploring creature after you reveal a nonland card but before it receives a counter.

1/19/2018
If no card is revealed, most likely because that playerís library is empty, the exploring creature receives a +1/+1 counter.

1/19/2018
If a resolving spell or ability instructs a specific creature to explore but that creature has left the battlefield, the creature still explores. If you reveal a nonland card this way, you wonít put a +1/+1 counter on anything, but you may put the revealed card into your graveyard. Effects that trigger ďwhenever a creature you control exploresĒ trigger if appropriate.



NederMagic denkt mee

We hebben alle decks op de site voor je doorzocht en gekeken welke 20 kaarten het meest met Jadelight Ranger samen worden gespeeld.
Klik hier voor het lijstje

Geef commentaar op Jadelight Ranger
Zoek decks met Jadelight Ranger
Jadelight Ranger toevoegen aan je watchlist:
Versie uit Rivals of Ixalan / Alle versies