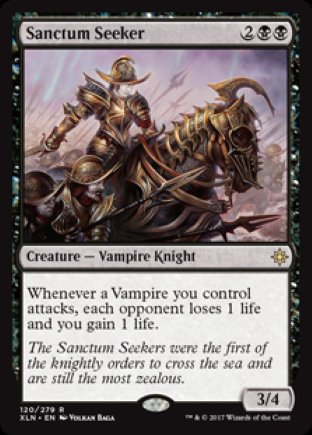 Oracle tekst

Creature - Vampire Knight 3 / 4
Whenever a Vampire you control attacks, each opponent loses 1 life and you gain 1 life.

Rating na 0 stemmen

Er is nog niet op deze kaart gestemd.

Tournooi info

Legal in: Standard, Modern, Legacy, Vintage, Commander

Officiele rulings

9/29/2017
In a Two-Headed Giant game, Sanctum Seekerís ability causes the opposing team to lose 2 life and you to gain 1 life.



NederMagic denkt mee

Sanctum Seeker is in 26 decks gevonden. De getallen achter de andere kaarten geven aan in hoeveel van de 26 decks zij ook voorkomen.
Mavren Fein, Dusk Apostle 16
Legionís Landing 15
Legion Lieutenant 15
Bishop of Rebirth 14
Bloodline Keeper 13
Edgar Markov 12
Indulgent Aristocrat 12
Yahenni, Undying Partisan 11
Drana, Liberator of Malakir 11
Patron of the Vein 11
Bloodcrazed Paladin 11
Champion of Dusk 11
Elenda, the Dusk Rose 11
Forerunner of the Legion 11
Gifted Aetherborn 10
Command Tower 10
Bloodline Necromancer 10
Path of Ancestry 10
Dragonskull Summit 10
Unclaimed Territory 10

Geef commentaar op Sanctum Seeker
Zoek decks met Sanctum Seeker
Sanctum Seeker toevoegen aan je watchlist:
Versie uit Ixalan / Alle versies