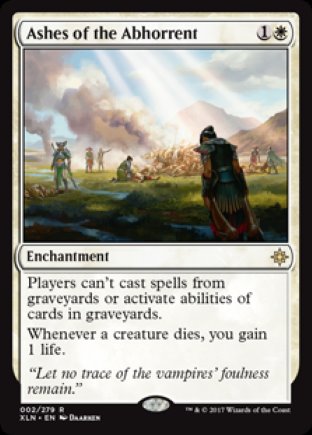 Oracle tekst

Enchantment
Players can't cast spells from graveyards or activate abilities of cards in graveyards.
Whenever a creature dies, you gain 1 life.

Rating na 0 stemmen

Er is nog niet op deze kaart gestemd.

Tournooi info

Legal in: Standard, Modern, Legacy, Vintage, Commander

Officiele rulings

9/29/2017
Activated abilities contain a colon. They're generally written "[Cost]: [Effect]." Some keyword abilities (such as embalm from the Amonkhet set) are activated abilities and will have colons in their reminder text. Triggered abilities (starting with "when," "whenever," or "at") are unaffected by Ashes of the Abhorrent.

9/29/2017
Ashes of the Abhorrent doesn't stop players from playing land cards from the graveyard if an effect allows them to do so.

9/29/2017
If a creature dies at the same time that Ashes of the Abhorrent is destroyed, you'll gain 1 life.



NederMagic denkt mee

We hebben alle decks op de site voor je doorzocht en gekeken welke 20 kaarten het meest met Ashes of the Abhorrent samen worden gespeeld.
Klik hier voor het lijstje

Geef commentaar op Ashes of the Abhorrent
Zoek decks met Ashes of the Abhorrent
Ashes of the Abhorrent toevoegen aan je watchlist:
Versie uit Ixalan / Alle versies