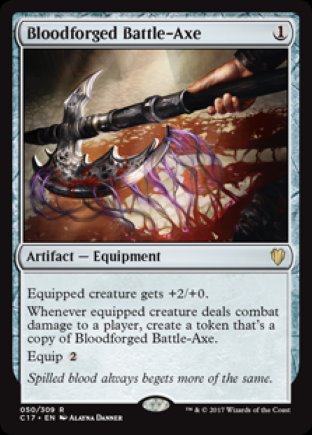 Oracle tekst

Artifact - Equipment
Equipped creature gets +2/+0.
Whenever equipped creature deals combat damage to a player, create a token that's a copy of Bloodforged Battle-Axe.
Equip 2

Rating na 0 stemmen

Er is nog niet op deze kaart gestemd.

Tournooi info

Legal in: Legacy, Vintage, Commander

Officiele rulings

8/25/2017
The token enters the battlefield unattached.

8/25/2017
The token has all three of Bloodforged Battle-Axe's abilities, including the one that creates more tokens.



NederMagic denkt mee

We hebben alle decks op de site voor je doorzocht en gekeken welke 20 kaarten het meest met Bloodforged Battle-Axe samen worden gespeeld.
Klik hier voor het lijstje

Geef commentaar op Bloodforged Battle-Axe
Zoek decks met Bloodforged Battle-Axe
Bloodforged Battle-Axe toevoegen aan je watchlist:
Versie uit Commander 2017 / Alle versies