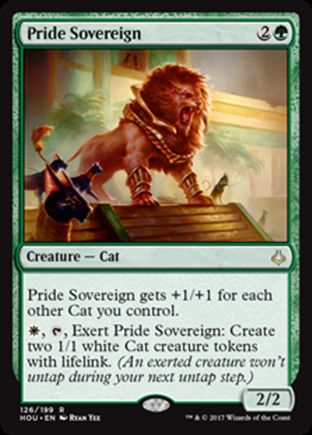 Oracle tekst

Creature - Cat 2 / 2
Pride Sovereign gets +1/+1 for each other Cat you control.
W, T, Exert Pride Sovereign: Create two 1/1 white Cat creature tokens with lifelink. (An exerted creature won't untap during your next untap step.)

Rating na 0 stemmen

Er is nog niet op deze kaart gestemd.

Tournooi info

Legal in: Standard, Modern, Block, Legacy, Vintage, Commander

Officiele rulings

4/18/2017
You can't exert a creature unless an effect allows you to do so. Similar effects that "tap and freeze" a creature (such as that of Decision Paralysis) don't exert that creature.

4/18/2017
If an exerted creature is already untapped during your next untap step (most likely because it had vigilance or an effect untapped it), exert's effect preventing it from untapping expires without having done anything.

4/18/2017
If you gain control of another player's creature until end of turn and exert it, it will untap during that player's untap step.

7/14/2017
Because damage remains marked on a creature until it's removed as the turn ends, the damage Pride Sovereign takes during combat may become lethal if other Cats you control leave the battlefield later in the turn.

7/14/2017
Some cards in the Hour of Devastation set let you exert a creature as a cost to activate one of its abilities. You can exert it to pay that cost even if you've already exerted it earlier in the turn. Exerting it multiple times will keep it tapped only during your next untap step.



NederMagic denkt mee

We hebben alle decks op de site voor je doorzocht en gekeken welke 20 kaarten het meest met Pride Sovereign samen worden gespeeld.
Klik hier voor het lijstje

Geef commentaar op Pride Sovereign
Zoek decks met Pride Sovereign
Pride Sovereign toevoegen aan je watchlist:
Versie uit Hour of Devastation / Alle versies