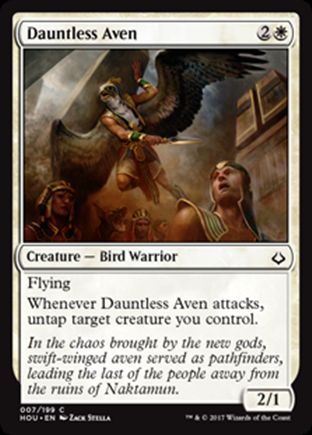 Oracle tekst

Creature - Bird Warrior 2 / 1
Flying
Whenever Dauntless Aven attacks, untap target creature you control.

Rating na 0 stemmen

Er is nog niet op deze kaart gestemd.

Tournooi info

Legal in: Modern, Legacy, Vintage, Commander

Officiele rulings

7/14/2017
Untapping an attacking creature doesnít remove it from combat.

7/14/2017
All attackers are chosen at once. You canít attack with Dauntless Aven, untap a tapped creature, and then attack with that creature.



NederMagic denkt mee

Dauntless Aven is in te weinig decks gevonden.

Geef commentaar op Dauntless Aven
Zoek decks met Dauntless Aven
Dauntless Aven toevoegen aan je watchlist:
Versie uit Hour of Devastation / Alle versies