Heart-Piercer Manticore informatie
Serie: Amonkhet (AKH)
Rarity: Rare
Geef commentaar op Heart-Piercer Manticore
Heart-Piercer Manticore komt voor in
Serie
Normaal
Foil
Amonkhet

8

0,35

-

0,75
Wie ruilt deze kaart

[]
Nickname
#
Foil
Bas Maessen (225)
3
0
Jacinto (47)
1
0
Martin (97)
2
0
Dorus (58)
1
0
andreas (60)
0
1
Kaa (21)
1
0
Stephan Broer (46)
1
0
Chris072 (62)
2
0
stijn BE (38)
1
0
Mark Oude Nijhuis (8)
0
1
Rick van der Eerden (9)
1
0
JonaDDD (2)
1
0
G-men (93)
1
0
Bjorn Van der Zanden (53)
1
0
Patrick (101)
1
0
patje
2
0
Luke
2
0
Kenta (9)
3
0
Torec (85)
1
0
Orni (9)
1
0
Roy (174)
1
0
Bart (14)
1
0
Tim,The Holy day Collector (15)
1
0
Elmer Lexmond (36)
1
0
Invictus4774 (55)
1
0
Max Raterink
2
0
Steven.Caitlyn (14)
2
0
Mat (50)
1
0
Nessix (1)
2
0
TvMoorsel
1
0
Robbert M (113)
1
0
* Dit is het aanbod van Heart-Piercer Manticore uit Amonkhet. Als een kaart in meerdere series zit kun je die apart aanklikken hierboven. Klik op de getallen om direct naar iemands collectie te gaan. De leden die het meest recent zijn ingelogd staan bovenaan. Leden die meer dan 14 dagen niet zijn ingelogd worden niet vermeld.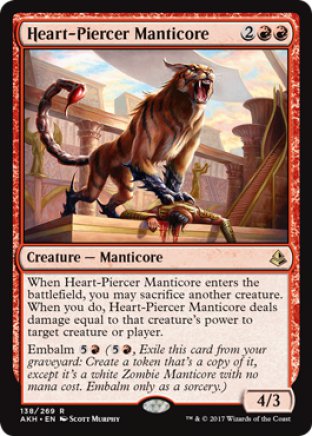 Oracle tekst

Creature - Manticore 4 / 3
When Heart-Piercer Manticore enters the battlefield, you may sacrifice another creature. When you do, Heart-Piercer Manticore deals damage equal to that creature's power to target creature or player.
Embalm 5R (5R, Exile this card from your graveyard: Create a token that's a copy of it, except it's a white Zombie Manticore with no mana cost. Embalm only as a sorcery.)

Rating na 0 stemmen

Er is nog niet op deze kaart gestemd.

Tournooi info

Legal in: Standard, Modern, Block, Legacy, Vintage, Commander

Officiele rulings

4/18/2017
The sacrificed creature's last known existence on the battlefield is checked to determine its power.

4/18/2017
You can't sacrifice multiple creatures to deal damage multiple times.

4/18/2017
Heart-Piercer Manticore features a new style of triggered ability. When it enters the battlefield, its triggered ability goes on the stack without a target. While that ability is resolving, you may sacrifice a creature. If you do, a second ability triggers and you pick a target creature or player that will be dealt damage. This is different from other abilities that say "If you do . . ." in that players may cast spells and activate abilities before a creature is sacrificed and then again after the creature is sacrificed but before damage is dealt.

4/18/2017
Heart-Piercer Manticore's damage-dealing ability triggers only when you sacrifice a creature as a result of the instruction of its triggered ability. It won't trigger if you sacrifice a creature for any other reason.

4/18/2017
For each card with embalm, a corresponding game play supplement token can be found in some Amonkhet booster packs. These supplements are not required to play with cards with embalm; you can use the same items to represent an embalmed token as you would any other token.

4/18/2017
The token copies exactly what was printed on the original card and nothing else. It doesn't copy any information about the object the card was before it was put into your graveyard.

4/18/2017
The token is a Zombie in addition to its other types and is white instead of its other colors. It has no mana cost, and thus its converted mana cost is 0. These are copiable values of the token that other effects may copy.

4/18/2017
If the card copied by the token had any "when [this permanent] enters the battlefield" abilities, then the token also has those abilities and will trigger them when it's created. Similarly, any "as [this permanent] enters the battlefield" or "[this permanent] enters the battlefield with" abilities that the token has copied will also work.

7/14/2017
If a spell or ability puts a creature card with embalm into your graveyard during your main phase, you'll have priority immediately after that spell or ability resolves. You can activate the creature card's embalm ability before any player can exile it with an effect, such as that of Crook of Condemnation, if it's legal for you to do so.

7/14/2017
Once you've activated an embalm ability, the card is immediately exiled. Opponents can't try to stop the ability by exiling the card with an effect such as that of Crook of Condemnatnion.



NederMagic denkt mee

We hebben alle decks op de site voor je doorzocht en gekeken welke 20 kaarten het meest met Heart-Piercer Manticore samen worden gespeeld.
Klik hier voor het lijstje

Geef commentaar op Heart-Piercer Manticore
Zoek decks met Heart-Piercer Manticore
Heart-Piercer Manticore toevoegen aan je watchlist:
Versie uit Amonkhet / Alle versies