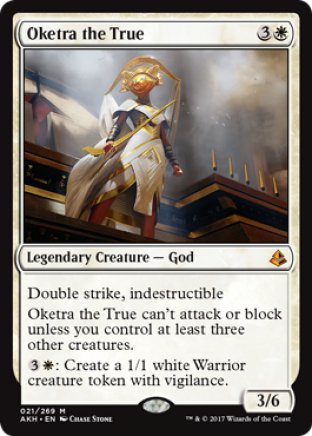 Oracle tekst

Legendary Creature - God 3 / 6
Double strike, indestructible
Oketra the True can't attack or block unless you control at least three other creatures.
3W: Create a 1/1 white Warrior creature token with vigilance.

Rating na 0 stemmen

Er is nog niet op deze kaart gestemd.

Tournooi info

Legal in: Standard, Modern, Block, Legacy, Vintage, Commander

Officiele rulings

4/18/2017
Once Oketra has attacked or blocked, it will remain in combat even if the number of other creatures you control becomes two or fewer.

4/18/2017
You donít have to attack with three other creatures for Oketra to be able to attack. The same is true of blocking.



NederMagic denkt mee

We hebben alle decks op de site voor je doorzocht en gekeken welke 20 kaarten het meest met Oketra the True samen worden gespeeld.
Klik hier voor het lijstje

Geef commentaar op Oketra the True
Zoek decks met Oketra the True
Oketra the True toevoegen aan je watchlist:
Versie uit Amonkhet / Alle versies