Gideon of the Trials informatie
Serie: Amonkhet (AKH)
Rarity: Mythic
Geef commentaar op Gideon of the Trials
Gideon of the Trials komt voor in
Serie
Normaal
Foil
Amonkhet

-

17,95

-

29,95
Wie ruilt deze kaart

[]
Nickname
#
Foil
Jan (120)
2
0
Herr Thijs ( Leuven ) (203)
1
0
Steven.Caitlyn (14)
1
0
G (248)
1
0
Chris072 (62)
2
0
Ferdi (72)
2
0
Benjamin (14)
4
0
Tim,The Holy day Collector (15)
1
0
Mark Oude Nijhuis (8)
0
1
andreas (60)
2
0
midnight (31)
2
0
Dorus (52)
1
0
Bas Maessen (221)
1
0
Claesar
2
0
Jeroen
1
0
gielvd (3)
1
0
Justen (28)
2
0
JordbaeR (7)
1
0
rik
1
0
namorthac (53)
1
0
G-men (93)
1
0
Sheepgurt (0)
1
0
Jolein (1)
1
0
Robbie (100)
1
0
bjorn keerssemeeckers (12)
1
0
* Dit is het aanbod van Gideon of the Trials uit Amonkhet. Als een kaart in meerdere series zit kun je die apart aanklikken hierboven. Klik op de getallen om direct naar iemands collectie te gaan. De leden die het meest recent zijn ingelogd staan bovenaan. Leden die meer dan 14 dagen niet zijn ingelogd worden niet vermeld.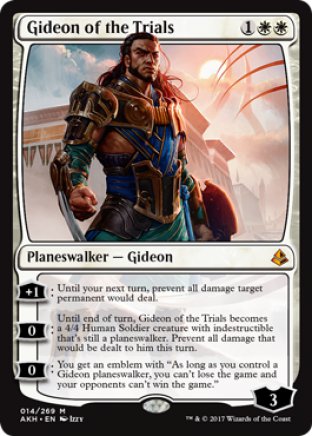 Oracle tekst

Planeswalker - Gideon
+1: Until your next turn, prevent all damage target permanent would deal.
0: Until end of turn, Gideon of the Trials becomes a 4/4 Human Soldier creature with indestructible that's still a planeswalker. Prevent all damage that would be dealt to him this turn.
0: You get an emblem with "As long as you control a Gideon planeswalker, you can't lose the game and your opponents can't win the game."

Rating na 0 stemmen

Er is nog niet op deze kaart gestemd.

Tournooi info

Legal in: Standard, Modern, Block, Legacy, Vintage, Commander

Officiele rulings

4/18/2017
Gideonís first ability will continue to prevent damage dealt by the target permanent even if Gideon leaves the battlefield before your next turn.

4/18/2017
Gideonís second ability doesnít count as a creature entering the battlefield. Gideon was already on the battlefield; he only changed his types.

4/18/2017
If Gideon becomes a creature the same turn he enters the battlefield, you canít attack with him or use any of his T abilities (if he gains any).

4/18/2017
Gideonís second ability causes him to become a creature with the creature types Human and Soldier. He remains a planeswalker with the planeswalker type Gideon. (He also retains any other card types or subtypes he may have had.) Each subtype is correlated to the proper card type: planeswalker is only a type (not a creature type), and Human and Soldier are just creature types (not planeswalker types).

4/18/2017
If damage that canít be prevented is dealt to Gideon after his second ability has resolved, that damage will have all applicable results: specifically, the damage is marked on Gideon (since heís a creature) and that damage causes that many loyalty counters to be removed from him (since heís a planeswalker). Even though he has indestructible, if Gideon has no loyalty counters on him, heís put into his ownerís graveyard.

4/18/2017
If Gideon leaves the battlefield after giving you his emblem, youíll keep the emblem. Its effect will apply again later if another Gideon comes under your control.

4/18/2017
No game effect can cause you to lose the game or cause any opponent to win the game while Gideonís emblem is in effect. It doesnít matter whether you have 0 or less life, youíre forced to draw a card while your library is empty, you have ten or more poison counters, youíre at your Glorious End, your opponent casts a second Approach of the Second Sun, or so on. You keep playing.

4/18/2017
Other circumstances can still cause you to lose the game. You will lose a game if you concede, if youíre penalized with a Game Loss or a Match Loss during a sanctioned tournament due to a DCI rules infraction, or if your Magic Onlineģ game clock runs out of time.

4/18/2017
If you have Gideonís emblem in a Two-Headed Giant game and control a Gideon planeswalker, your team canít lose the game and the opposing team canít win the game. If your teammate controls a Gideon planeswalker but you do not, your emblemís effect doesnít apply.



NederMagic denkt mee

We hebben alle decks op de site voor je doorzocht en gekeken welke 20 kaarten het meest met Gideon of the Trials samen worden gespeeld.
Klik hier voor het lijstje

Geef commentaar op Gideon of the Trials
Zoek decks met Gideon of the Trials
Gideon of the Trials toevoegen aan je watchlist:
Versie uit Amonkhet / Alle versies