Dance of Many informatie
Serie: The Dark (DRK)
Rarity: Rare
Geef commentaar op Dance of Many
Dance of Many komt voor in
Serie
Normaal
Foil
5th Edition

3

0,50
Chronicles

1

0,50
The Dark

-

1,95
Wie ruilt deze kaart

[]
Nickname
#
Foil
Momenteel heeft niemand deze versie te ruil.
* Dit is het aanbod van Dance of Many uit The Dark. Als een kaart in meerdere series zit kun je die apart aanklikken hierboven. Klik op de getallen om direct naar iemands collectie te gaan. De leden die het meest recent zijn ingelogd staan bovenaan. Leden die meer dan 14 dagen niet zijn ingelogd worden niet vermeld.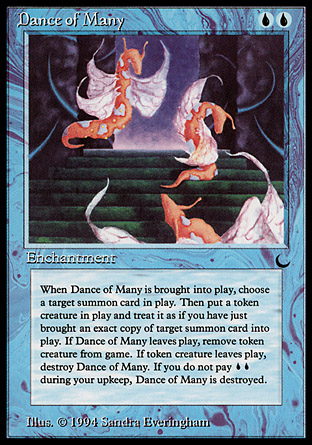 Oracle tekst

Enchantment
When Dance of Many enters the battlefield, create a token that's a copy of target nontoken creature.
When Dance of Many leaves the battlefield, exile the token.
When the token leaves the battlefield, sacrifice Dance of Many.
At the beginning of your upkeep, sacrifice Dance of Many unless you pay UU.

Rating na 2 stemmen












Tournooi info

Legal in: Legacy, Vintage, Commander

Officiele rulings

10/4/2004
Destroying the creature that was copied will not cause the token creature to be destroyed as well.

10/4/2004
Each Dance of Many is associated only with its token creature. If one Dance leaves the battlefield, only the corresponding token is affected, not all tokens from all instances of Dance of Many.

10/4/2004
The ability is targeted and checks the validity of the target when put on the stack and when resolving. If the creature is not still there when the copy ability resolves, the ability doesn't resolve and no token is put onto the battlefield. This card remains on the battlefield as an enchantment with no token.

10/4/2004
The mana cost is copied.

10/4/2004
Treat the token as entering the battlefield as a copy of the chosen creature. If that creature normally gets counters when entering the battlefield, the token creature gets counters.

10/1/2009
If Dance of Many leaves the battlefield before its first ability has resolved, its second ability will trigger and do nothing. Then its first ability will resolve and put a token onto the battlefield. That token won't have any connection to a Dance of Many permanent, so it won't be exiled when a Dance of Many leaves the battlefield.



NederMagic denkt mee

We hebben alle decks op de site voor je doorzocht en gekeken welke 20 kaarten het meest met Dance of Many samen worden gespeeld.
Klik hier voor het lijstje

Geef commentaar op Dance of Many
Zoek decks met Dance of Many
Dance of Many toevoegen aan je watchlist:
Versie uit The Dark / Alle versies