Disallow informatie
Serie: Aether Revolt (AER)
Rarity: Rare
Geef commentaar op Disallow
Disallow komt voor in
Serie
Normaal
Foil
Aether Revolt

-

2,95

-

9,95
Wie ruilt deze kaart

[]
Nickname
#
Foil
Erick (0)
2
0
Orni (11)
1
0
Roland (82)
1
0
Jan (120)
1
0
Kenta (9)
0
1
Kaa (24)
1
0
G-men (94)
1
0
Luke
0
1
TomSuanet (28)
1
0
Koen Fasen (1)
2
0
Bjorn (50)
1
0
Hrethgir (73)
1
0
Laurens (29)
1
0
Tsaycro (28)
1
0
* Dit is het aanbod van Disallow uit Aether Revolt. Als een kaart in meerdere series zit kun je die apart aanklikken hierboven. Klik op de getallen om direct naar iemands collectie te gaan. De leden die het meest recent zijn ingelogd staan bovenaan. Leden die meer dan 14 dagen niet zijn ingelogd worden niet vermeld.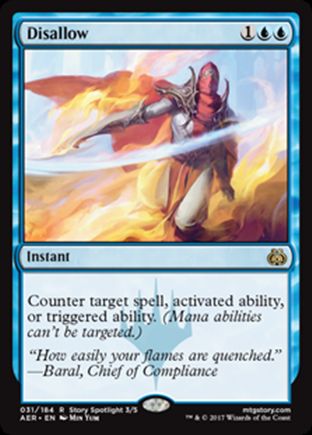 Oracle tekst

Instant
Counter target spell, activated ability, or triggered ability. (Mana abilities can't be targeted.)

Rating na 2 stemmen












Tournooi info

Legal in: Modern, Legacy, Vintage, Commander

Officiele rulings

2/9/2017
Activated abilities are written in the form "Cost: Effect." Some keyword abilities, such as equip and crew, are activated abilities and will have colons in their reminder texts.

2/9/2017
Triggered abilities use the word "when," "whenever," or "at." They're often written as "[Trigger condition], [effect]." Some keyword abilities, such as prowess and fabricate, are triggered abilities and will have "when," "whenever," or "at" in their reminder text.

2/9/2017
If you counter a delayed triggered ability that triggers at the beginning of the "next" occurrence of a specified step or phase, that ability won't trigger again the following time that phase or step occurs.

2/9/2017
An activated mana ability is one that adds mana to a player's mana pool as it resolves, doesn't have a target, and isn't a loyalty ability. A triggered mana ability is one that adds mana to a player's mana pool and triggers on an activated mana ability.

2/9/2017
Abilities that create replacement effects, such as a permanent entering the battlefield tapped or with counters on it, can't be targeted. Abilities that apply "as [this creature] enters the battlefield" are also replacement effects and can't be targeted.

1/19/2018
There are many important moments in the story, but the most crucial-called "story spotlights"-are shown on cards. These cards have the Planeswalker symbol in their text box; this symbol has no effect on gameplay. You can read more about these events in the official Magic fiction at http://www.mtgstory.com.



NederMagic denkt mee

We hebben alle decks op de site voor je doorzocht en gekeken welke 20 kaarten het meest met Disallow samen worden gespeeld.
Klik hier voor het lijstje

Geef commentaar op Disallow
Zoek decks met Disallow
Disallow toevoegen aan je watchlist:
Versie uit Aether Revolt / Alle versies