Battle at the Bridge informatie
Serie: Aether Revolt (AER)
Rarity: Rare
Geef commentaar op Battle at the Bridge
Battle at the Bridge komt voor in
Serie
Normaal
Foil
Aether Revolt

-

0,45

1

1,00
Wie ruilt deze kaart

[]
Nickname
#
Foil
Frank Bouwmeester (30)
4
0
Rens van hout
1
0
Motork (45)
1
0
Jeroen van Berk (7)
1
0
Ferdi (73)
1
0
Remco (19)
2
0
sensitizer
1
1
Ingmar (28)
1
0
Nathan (13)
1
0
Martin (99)
2
0
rik (36)
1
0
JonaDDD (3)
1
0
TLB (2)
0
1
Cornholio
2
0
TimFakkel Arnhem (258)
1
0
Luuk
1
0
Chris072 (62)
1
0
G-men (94)
1
0
NeonimusX
1
0
Tim H
1
0
Kevin
1
0
Tom S (Almere) (106)
1
0
Barttjuh (129)
0
1
Bas Maessen (231)
2
0
* Dit is het aanbod van Battle at the Bridge uit Aether Revolt. Als een kaart in meerdere series zit kun je die apart aanklikken hierboven. Klik op de getallen om direct naar iemands collectie te gaan. De leden die het meest recent zijn ingelogd staan bovenaan. Leden die meer dan 14 dagen niet zijn ingelogd worden niet vermeld.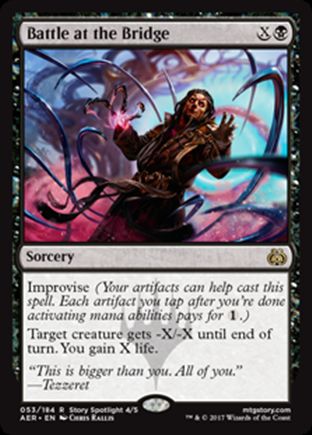 Oracle tekst

Sorcery
Improvise (Your artifacts can help cast this spell. Each artifact you tap after you're done activating mana abilities pays for 1.)
Target creature gets -X/-X until end of turn. You gain X life.

Rating na 0 stemmen

Er is nog niet op deze kaart gestemd.

Tournooi info

Legal in: Modern, Legacy, Vintage, Commander

Officiele rulings

2/9/2017
If the target creature becomes an illegal target, Battle at the Bridge doesnít resolve and none of its effects happen. You wonít gain life.

2/9/2017
Improvise doesnít change a spellís mana cost or converted mana cost.

2/9/2017
When calculating a spellís total cost, include any alternative costs, additional costs, or anything else that increases or reduces the cost to cast the spell. Improvise applies after the total cost is calculated.

2/9/2017
Because improvise isnít an alternative cost, it can be used in conjunction with alternative costs.

2/9/2017
Improvise canít pay for W, U, B, R, G, or C mana symbols in a spellís total cost.

2/9/2017
Improvise canít be used to pay for anything other than the cost of casting the spell. For example, it canít be used during the resolution of an ability that says ďCounter target spell unless its controller pays 3.Ē

2/9/2017
If an artifact you control has a mana ability with T in the cost, activating that ability while casting a spell with improvise will result in the artifact being tapped when you pay the spellís costs. You wonít be able to tap it again for improvise. Similarly, if you sacrifice an artifact to activate a mana ability while casting a spell with improvise, that artifact wonít be on the battlefield when you pay the spellís costs, so you wonít be able to tap it for improvise.

2/9/2017
Tapping an artifact wonít cause its abilities to stop applying unless those abilities say so.

2/9/2017
Equipment attached to a creature doesnít become tapped when that creature becomes tapped, and tapping that Equipment doesnít cause the creature to become tapped.

2/9/2017
When using improvise to cast a spell with X in its mana cost, first choose the value for X. That choice, plus any cost increases or decreases, will determine the spellís total cost. Then you can tap artifacts you control to help pay that cost. For example, if you cast Whir of Invention (a spell with improvise and mana cost XUUU) and choose X to be 3, the total cost is 3UUU. If you tap two artifacts, youíll have to pay 1UUU.

1/19/2018
There are many important moments in the story, but the most crucial-called ďstory spotlightsĒ-are shown on cards. These cards have the Planeswalker symbol in their text box; this symbol has no effect on gameplay. You can read more about these events in the official Magic fiction at http://www.mtgstory.com.



NederMagic denkt mee

We hebben alle decks op de site voor je doorzocht en gekeken welke 20 kaarten het meest met Battle at the Bridge samen worden gespeeld.
Klik hier voor het lijstje

Geef commentaar op Battle at the Bridge
Zoek decks met Battle at the Bridge
Battle at the Bridge toevoegen aan je watchlist:
Versie uit Aether Revolt / Alle versies