Baralís Expertise informatie
Serie: Aether Revolt (AER)
Rarity: Rare
Geef commentaar op Baralís Expertise
Baralís Expertise komt voor in
Serie
Normaal
Foil
Aether Revolt

-

0,50

-

3,90
Wie ruilt deze kaart

[]
Nickname
#
Foil
Marcel (55)
0
1
Dorus (60)
1
0
Erick
0
1
Anne-jan van aperlo (30)
0
1
Ferdi (73)
1
0
Roy (174)
1
0
Hrethgir (72)
1
0
spierenburg (15)
1
0
Orni (11)
1
0
andreas (62)
3
0
Stronghold (63)
1
0
BartvD
1
0
manson (4)
1
0
Nathan (13)
1
0
Martin (97)
2
0
JonaDDD (3)
2
0
Claesar
1
0
Amras (19)
1
0
Torec (85)
1
0
RahX (20)
6
1
PascalG (14)
0
1
Jeroen van Berk (7)
1
0
Ivo Bos (Rotterdam) (88)
1
0
rik (36)
2
0
Luke
2
0
Wesley van Laar (10)
3
0
Ingmar (28)
1
0
Max Raterink
1
0
* Dit is het aanbod van Baralís Expertise uit Aether Revolt. Als een kaart in meerdere series zit kun je die apart aanklikken hierboven. Klik op de getallen om direct naar iemands collectie te gaan. De leden die het meest recent zijn ingelogd staan bovenaan. Leden die meer dan 14 dagen niet zijn ingelogd worden niet vermeld.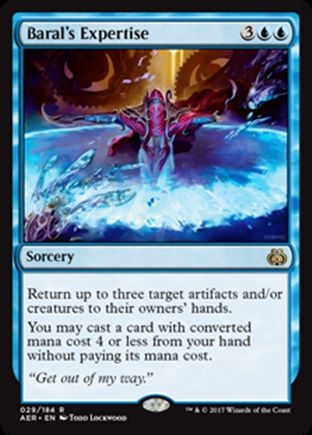 Oracle tekst

Sorcery
Return up to three target artifacts and/or creatures to their owners' hands.
You may cast a card with converted mana cost 4 or less from your hand without paying its mana cost.

Rating na 0 stemmen

Er is nog niet op deze kaart gestemd.

Tournooi info

Legal in: Standard, Modern, Legacy, Vintage, Commander

Officiele rulings

2/9/2017
The card that you cast may be an artifact or creature that was returned to your hand by this spell.

2/9/2017
If the Expertise spell you cast has any targets, and those targets become illegal before the spell resolves, the spell doesnít resolve and none of its effects happen. You wonít get to cast a free spell.

2/9/2017
A cardís converted mana cost is determined solely by the mana symbols printed in its upper right corner. The converted mana cost is the total amount of mana in that cost, regardless of color. For example, a card with mana cost 1UU has converted mana cost 3. Ignore any alternative costs, additional costs, cost increases, or cost reductions that could apply to it. A card with no mana cost has a converted mana cost of 0.

2/9/2017
If the card has X in its mana cost, you must choose 0 as the value of X when casting it without paying its mana cost.

2/9/2017
Effects that allow you to ďcastĒ a card donít allow you to play a land card.

2/9/2017
If you cast a card ďwithout paying its mana cost,Ē you canít choose to cast it for any alternative costs, such as emerge costs. You can, however, pay additional costs. If the card has any mandatory additional costs, such as that of Cathartic Reunion, you must pay those to cast the card.

2/9/2017
While youíre casting your free spell, the Expertise spell is still on the stack. It will be put into its ownerís graveyard after the free spell is cast. The free spell canít target the Expertise card in your graveyard. It can target the Expertise spell on the stack, but the Expertise spell will become an illegal target before the free spell resolves.

2/9/2017
Any triggered abilities that trigger while performing the Expertise spellís first effect wonít be put onto the stack until after youíre done casting your free spell. Theyíre put onto the stack at the same time as any abilities that triggered while casting that spell regardless of the order in which those abilities triggered.

4/18/2017
The converted mana cost of a split card is determined by the combined mana cost of its two halves. If an expertise spell allows you to cast a split card, you may cast either half or, if that split card has fuse, both halves.



NederMagic denkt mee

We hebben alle decks op de site voor je doorzocht en gekeken welke 20 kaarten het meest met Baralís Expertise samen worden gespeeld.
Klik hier voor het lijstje

Geef commentaar op Baralís Expertise
Zoek decks met Baralís Expertise
Baralís Expertise toevoegen aan je watchlist:
Versie uit Aether Revolt / Alle versies