Baral, Chief of Compliance informatie
Serie: Aether Revolt (AER)
Rarity: Rare
Geef commentaar op Baral, Chief of Compliance
Baral, Chief of Compliance komt voor in
Serie
Normaal
Foil
Aether Revolt

-

4,95

-

9,95
Wie ruilt deze kaart

[]
Nickname
#
Foil
Kenta (9)
1
0
Brian Keeman (10)
1
0
Erick
3
0
Freaklin (44)
0
1
Bjorn (50)
1
0
Jelmer (664)
1
0
Jarno Cosijn (Assendelft) (308)
1
0
Ingmar (28)
1
0
Claesar
1
0
Remco (19)
1
0
Torec (85)
1
0
RahX (20)
3
0
Tim H
1
0
MaartenK (Enschede) (1)
1
0
Ronald (31)
1
0
Bas Maessen (231)
2
0
gielvd (5)
1
0
* Dit is het aanbod van Baral, Chief of Compliance uit Aether Revolt. Als een kaart in meerdere series zit kun je die apart aanklikken hierboven. Klik op de getallen om direct naar iemands collectie te gaan. De leden die het meest recent zijn ingelogd staan bovenaan. Leden die meer dan 14 dagen niet zijn ingelogd worden niet vermeld.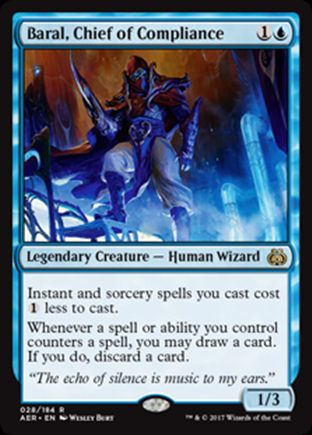 Oracle tekst

Legendary Creature - Human Wizard 1 / 3
Instant and sorcery spells you cast cost 1 less to cast.
Whenever a spell or ability you control counters a spell, you may draw a card. If you do, discard a card.

Rating na 1 stemmen












Tournooi info

Legal in: Modern, Legacy, Vintage, Commander

Officiele rulings

2/9/2017
Baral's first ability doesn't affect the colored mana requirements of instant and sorcery spells.

2/9/2017
If there are additional costs to cast a spell, such as a kicker cost or a cost imposed by another effect (such as Thalia, Guardian of Thraben's ability, for example), apply those increases before applying cost reductions.

2/9/2017
A spell or ability counters a spell only if it specifically contains the word "counter" in its text. If a spell or ability you control causes all the targets of a spell to become illegal, that spell doesn't resolve but is not countered.



NederMagic denkt mee

We hebben alle decks op de site voor je doorzocht en gekeken welke 20 kaarten het meest met Baral, Chief of Compliance samen worden gespeeld.
Klik hier voor het lijstje

Geef commentaar op Baral, Chief of Compliance
Zoek decks met Baral, Chief of Compliance
Baral, Chief of Compliance toevoegen aan je watchlist:
Versie uit Aether Revolt / Alle versies