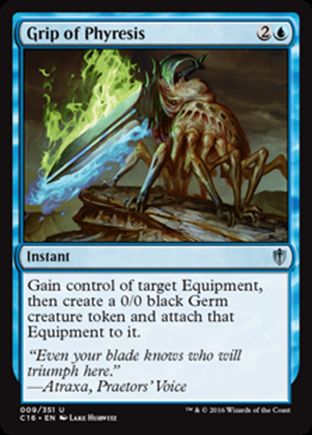 Oracle tekst

Instant
Gain control of target Equipment, then create a 0/0 black Germ creature token and attach that Equipment to it.

Rating na 0 stemmen

Er is nog niet op deze kaart gestemd.

Tournooi info

Legal in: Legacy, Vintage, Commander

Officiele rulings

11/8/2016
The Germ token exists on the battlefield as a 0/0 for a brief moment before the Equipment becomes attached to it. Abilities that trigger when a creature enters the battlefield will trigger based on its natural characteristics, not the characteristics it has immediately after becoming equipped.

11/8/2016
If the Equipment doesn't provide a toughness boost, your Germ token will have 0 toughness and die. You'll still control the Equipment.



NederMagic denkt mee

We hebben alle decks op de site voor je doorzocht en gekeken welke 20 kaarten het meest met Grip of Phyresis samen worden gespeeld.
Klik hier voor het lijstje

Geef commentaar op Grip of Phyresis
Zoek decks met Grip of Phyresis
Grip of Phyresis toevoegen aan je watchlist:
Versie uit Commander 2016 / Alle versies