Attune with Aether informatie
Serie: Kaladesh (KLD)
Rarity: Common
Geef commentaar op Attune with Aether
Attune with Aether komt voor in
Serie
Normaal
Foil
Kaladesh

8

0,20

-

5,95
Wie ruilt deze kaart

[]
Nickname
#
Foil
Stein (45)
0
1
Marcel (55)
4
0
Wouter (136)
2
0
Orni (11)
0
1
JRJman
1
0
Rimmy
2
0
* Dit is het aanbod van Attune with Aether uit Kaladesh. Als een kaart in meerdere series zit kun je die apart aanklikken hierboven. Klik op de getallen om direct naar iemands collectie te gaan. De leden die het meest recent zijn ingelogd staan bovenaan. Leden die meer dan 14 dagen niet zijn ingelogd worden niet vermeld.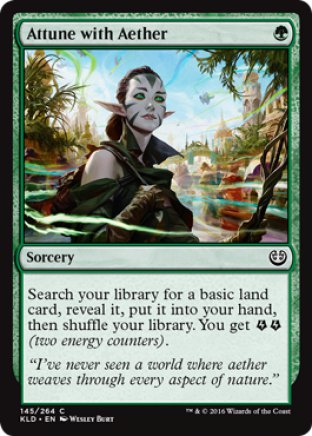 Oracle tekst

Sorcery
Search your library for a basic land card, reveal it, put it into your hand, then shuffle your library. You get EE (two energy counters).

Rating na 0 stemmen

Er is nog niet op deze kaart gestemd.

Tournooi info

Legal in: Modern, Legacy, Vintage, Commander

Officiele rulings

2/9/2017
E is the energy symbol. It represents one energy counter.

2/9/2017
Energy counters are a kind of counter that a player may have. Theyíre not associated with specific permanents. (Other kinds of counters that players may have include poison and experience.)

2/9/2017
Keep careful track of how many energy counters each player has. You may do so by keeping a running count on paper, by using a die, or by any other clear and mutually agreeable method.

2/9/2017
If an effect says you get one or more E, you get that many energy counters. To pay one or more E, you lose that many energy counters. Any effects that interact with counters a player gets, has, or loses can interact with energy counters.

2/9/2017
Energy counters arenít mana. They donít go away as steps, phases, and turns end, and effects that add mana ďof any typeĒ to your mana pool canít give you energy counters.

2/9/2017
You canít pay more energy counters than you have.



NederMagic denkt mee

We hebben alle decks op de site voor je doorzocht en gekeken welke 20 kaarten het meest met Attune with Aether samen worden gespeeld.
Klik hier voor het lijstje

Geef commentaar op Attune with Aether
Zoek decks met Attune with Aether
Attune with Aether toevoegen aan je watchlist:
Versie uit Kaladesh / Alle versies