Elder Deep-Fiend informatie
Serie: Eldritch Moon (EMN)
Rarity: Rare
Geef commentaar op Elder Deep-Fiend
Elder Deep-Fiend komt voor in
Serie
Normaal
Foil
Eldritch Moon

2

0,75

-

7,95
Wie ruilt deze kaart

[]
Nickname
#
Foil
Jeroen van Berk (7)
0
1
Anne-jan van aperlo (30)
2
0
monk (120)
4
0
Frank Bouwmeester (30)
3
0
Elessar Elendil (44)
1
0
wvttk (137)
4
0
Roy (174)
2
0
Martin (99)
3
0
Kilian (54)
2
0
Jimmy (130)
3
0
Kobbe (39)
1
0
Tim,The Holy day Collector (15)
1
0
sensitizer
0
1
Djilan (368)
1
0
T (102)
1
0
Ingmar (28)
1
0
Hans (76)
1
0
Laurens (29)
1
0
Claesar
5
0
Tijmen (17)
1
0
Stephan, The Ex-Landcollector (56)
1
0
Chris072 (62)
3
1
Enraged Wookie (40)
2
0
Paul van Gent (15)
2
0
Arnoud (31)
1
0
Ruben van den Aardweg
1
0
Bas Maessen (231)
5
0
Firestone (35)
1
0
andreas (62)
2
0
* Dit is het aanbod van Elder Deep-Fiend uit Eldritch Moon. Als een kaart in meerdere series zit kun je die apart aanklikken hierboven. Klik op de getallen om direct naar iemands collectie te gaan. De leden die het meest recent zijn ingelogd staan bovenaan. Leden die meer dan 14 dagen niet zijn ingelogd worden niet vermeld.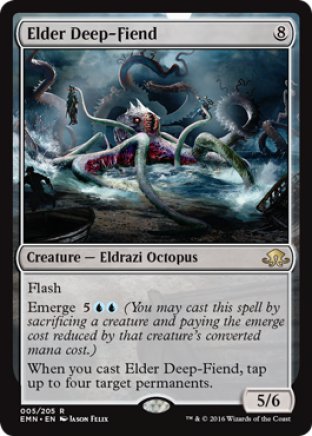 Oracle tekst

Creature - Eldrazi Octopus 5 / 6
Flash
Emerge 5UU (You may cast this spell by sacrificing a creature and paying the emerge cost reduced by that creature's converted mana cost.)
When you cast this spell, tap up to four target permanents.

Rating na 0 stemmen

Er is nog niet op deze kaart gestemd.

Tournooi info

Legal in: Modern, Legacy, Vintage, Commander

Officiele rulings

7/13/2016
A ďwhen you castĒ triggered ability resolves before the original spell resolves. It resolves even if the original spell is countered, and the original spell resolves even if the triggered ability is countered.

7/13/2016
Each card with emerge is colorless and has an emerge cost that includes one or more colors of mana. These cards are still colorless if you pay the emerge cost.

7/13/2016
A creatureís converted mana cost is determined solely by the mana symbols printed in its upper right corner (unless that creature is the back face of a double-faced card, is a melded permanent, or is copying something else; see below). If the mana cost includes X, X is considered to be 0. If itís a single-faced card with no mana symbols in its upper right corner (because itís an animated land, for example), its converted mana cost is 0. Ignore any alternative costs or additional costs (such as kicker) that were paid as the creature was cast.

7/13/2016
Colored mana components of emerge costs canít be reduced with emerge.

7/13/2016
You may sacrifice a creature with a converted mana cost of 0, such as a token creature thatís not a copy of another permanent, to cast a spell for its emerge cost. Youíll just pay the full emerge cost with no reduction.

7/13/2016
You may sacrifice a creature with converted mana cost greater than or equal to the emerge cost. If you do, youíll pay only the colored mana component of the emerge cost.

7/13/2016
If you sacrifice a creature with X in its mana cost, that X is considered to be 0.

7/13/2016
The converted mana cost of the back face of a double-faced card is the converted mana cost of its front face. The converted mana cost of a melded permanent is the sum of the converted mana costs of its front faces. A creature thatís a copy of either has a converted mana cost of 0.

7/13/2016
The converted mana cost of a creature spell with emerge isnít affected by whether its emerge cost is paid. For example, if you cast Elder Deep-Fiend for its emerge cost and sacrifice a creature whose converted mana cost is 3, Elder Deep-Fiendís converted mana cost remains 8.

7/13/2016
The creature chosen to be sacrificed is still on the battlefield up through the time that you activate mana abilities. Its abilities may affect the spellís cost, be activated to generate mana, and so on. However, if it has an ability that triggers when a spell is cast, it will have been sacrificed before that ability can trigger.

7/13/2016
Once you begin to cast a spell with emerge, no player may take actions until youíre done. Notably, opponents canít try to remove the creature you wish to sacrifice.



NederMagic denkt mee

We hebben alle decks op de site voor je doorzocht en gekeken welke 20 kaarten het meest met Elder Deep-Fiend samen worden gespeeld.
Klik hier voor het lijstje

Geef commentaar op Elder Deep-Fiend
Zoek decks met Elder Deep-Fiend
Elder Deep-Fiend toevoegen aan je watchlist:
Versie uit Eldritch Moon / Alle versies