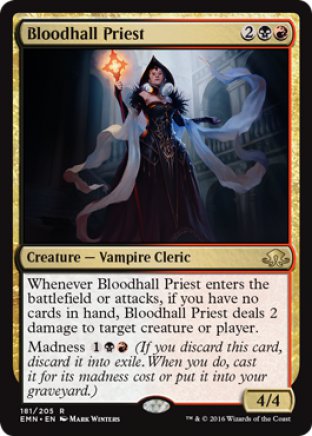 Oracle tekst

Creature - Vampire Cleric 4 / 4
Whenever Bloodhall Priest enters the battlefield or attacks, if you have no cards in hand, Bloodhall Priest deals 2 damage to target creature or player.
Madness 1BR (If you discard this card, discard it into exile. When you do, cast it for its madness cost or put it into your graveyard.)

Rating na 0 stemmen

Er is nog niet op deze kaart gestemd.

Tournooi info

Legal in: Standard, Modern, Block, Legacy, Vintage, Commander

Officiele rulings

7/13/2016
The triggered ability triggers both when Bloodhall Priest enters the battlefield and whenever it attacks. You donít have to choose only one.

7/13/2016
If you have a card in hand at the moment the trigger condition occurs, Bloodhall Priestís ability wonít trigger, even if you can get that card out of your hand right afterward. If you have a card in hand as the ability resolves, it has no effect. No damage will be dealt.



NederMagic denkt mee

We hebben alle decks op de site voor je doorzocht en gekeken welke 20 kaarten het meest met Bloodhall Priest samen worden gespeeld.
Klik hier voor het lijstje

Geef commentaar op Bloodhall Priest
Zoek decks met Bloodhall Priest
Bloodhall Priest toevoegen aan je watchlist:
Versie uit Eldritch Moon / Alle versies