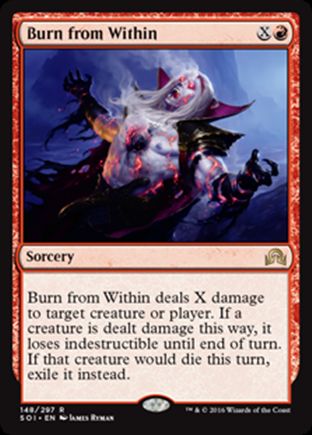 Oracle tekst

Sorcery
Burn from Within deals X damage to target creature or player. If a creature is dealt damage this way, it loses indestructible until end of turn. If that creature would die this turn, exile it instead.

Rating na 0 stemmen

Er is nog niet op deze kaart gestemd.

Tournooi info

Legal in: Standard, Modern, Block, Legacy, Vintage, Commander

Officiele rulings

4/8/2016
The damaged creature will be exiled if it would die for any reason that turn, not just if it dies due to damage from Burn from Within.

4/8/2016
If Burn from Within doesn't deal damage to the target creature (perhaps because that damage was prevented or X is 0), neither additional effect will apply. It won't lose indestructible, and it won't be exiled instead of dying that turn.

4/8/2016
You can target a creature that doesn't have indestructible with Burn from Within. It will still be exiled if it would die this turn.



NederMagic denkt mee

We hebben alle decks op de site voor je doorzocht en gekeken welke 20 kaarten het meest met Burn from Within samen worden gespeeld.
Klik hier voor het lijstje

Geef commentaar op Burn from Within
Zoek decks met Burn from Within
Burn from Within toevoegen aan je watchlist:
Versie uit Shadows over Innistrad / Alle versies