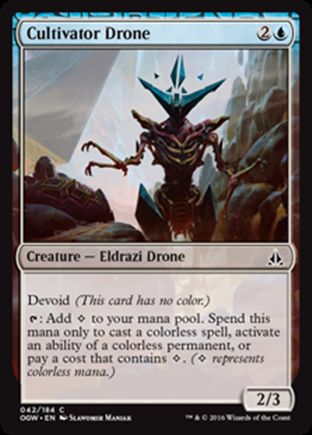 Oracle tekst

Creature - Eldrazi Drone 2 / 3
Devoid (This card has no color.)
T: Add C to your mana pool. Spend this mana only to cast a colorless spell, activate an ability of a colorless permanent, or pay a cost that contains C. (C represents colorless mana.)

Rating na 0 stemmen

Er is nog niet op deze kaart gestemd.

Tournooi info

Legal in: Standard, Modern, Block, Legacy, Vintage, Commander

Officiele rulings

1/22/2016
Mana produced by Cultivator Drone may be used to cast any colorless spell, including most artifact spells, face-down spells, and spells with devoid.

1/22/2016
Some triggered abilities include a cost as part of their resolution. For example, Bearer of Silence's ability says, in part, "When you cast Bearer of Silence, you may pay 1C." You may use mana produced by Cultivator Drone to help pay that cost. In fact, you could tap two Cultivator Drones to pay the entire cost.



NederMagic denkt mee

We hebben alle decks op de site voor je doorzocht en gekeken welke 20 kaarten het meest met Cultivator Drone samen worden gespeeld.
Klik hier voor het lijstje

Geef commentaar op Cultivator Drone
Zoek decks met Cultivator Drone
Cultivator Drone toevoegen aan je watchlist:
Versie uit Oath of the Gatewatch / Alle versies