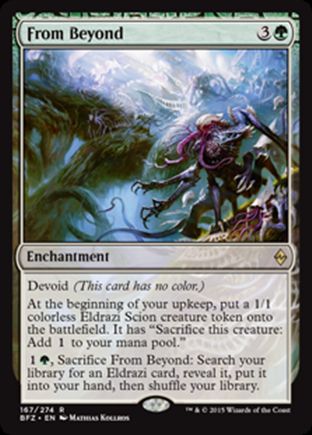 Oracle tekst

Enchantment
Devoid (This card has no color.)
At the beginning of your upkeep, create a 1/1 colorless Eldrazi Scion creature token. It has "Sacrifice this creature: Add C to your mana pool."
1G, Sacrifice From Beyond: Search your library for an Eldrazi card, reveal it, put it into your hand, then shuffle your library.

Rating na 0 stemmen

Er is nog niet op deze kaart gestemd.

Tournooi info

Legal in: Standard, Modern, Block, Legacy, Vintage, Commander

Officiele rulings

8/25/2015
An Eldrazi card is one with the creature type Eldrazi. Just having ďEldraziĒ in its name or being an Eldrazi-themed card doesnít count.

8/25/2015
Cards with devoid use frames that are variations of the transparent frame traditionally used for Eldrazi. The top part of the card features some color over a background based on the texture of the hedrons that once imprisoned the Eldrazi. This coloration is intended to aid deckbuilding and game play.

8/25/2015
A card with devoid is just colorless. Itís not colorless and the colors of mana in its mana cost.

8/25/2015
Other cards and abilities can give a card with devoid color. If that happens, itís just the new color, not that color and colorless.

8/25/2015
Devoid works in all zones, not just on the battlefield.

8/25/2015
If a card loses devoid, it will still be colorless. This is because effects that change an objectís color (like the one created by devoid) are considered before the object loses devoid.

8/25/2015
Eldrazi Scions are similar to Eldrazi Spawn, seen in the Zendikar block. Note that Eldrazi Scions are 1/1, not 0/1.

8/25/2015
Eldrazi and Scion are each separate creature types. Anything that affects Eldrazi will affect these tokens, for example.

8/25/2015
Sacrificing an Eldrazi Scion creature token to add C to your mana pool is a mana ability. It doesnít use the stack and canít be responded to.

8/25/2015
Some instants and sorceries that create Eldrazi Scions require targets. If all targets for such a spell have become illegal by the time that spell tries to resolve, the spell will be countered and none of its effects will happen. You wonít get any Eldrazi Scions.



NederMagic denkt mee

We hebben alle decks op de site voor je doorzocht en gekeken welke 20 kaarten het meest met From Beyond samen worden gespeeld.
Klik hier voor het lijstje

Geef commentaar op From Beyond
Zoek decks met From Beyond
From Beyond toevoegen aan je watchlist:
Versie uit Battle for Zendikar / Alle versies