Blighted Gorge informatie
Serie: Battle for Zendikar (BFZ)
Rarity: Uncommon
Geef commentaar op Blighted Gorge
Blighted Gorge komt voor in
Serie
Normaal
Foil
Battle for Zendikar

8

0,15

2

1,00
Merfolk vs Goblins

8

0,15
Wie ruilt deze kaart

[]
Nickname
#
Foil
Benjamin (18)
1
0
Leroy Kramer (20)
0
1
Take (Amsterdam) (31)
1
0
cmpunk (69)
3
0
Amras (19)
4
0
BE - Flashco Da Gama (28)
1
0
Cornholio
0
1
Roald Landheer (8)
2
1
* Dit is het aanbod van Blighted Gorge uit Battle for Zendikar. Als een kaart in meerdere series zit kun je die apart aanklikken hierboven. Klik op de getallen om direct naar iemands collectie te gaan. De leden die het meest recent zijn ingelogd staan bovenaan. Leden die meer dan 14 dagen niet zijn ingelogd worden niet vermeld.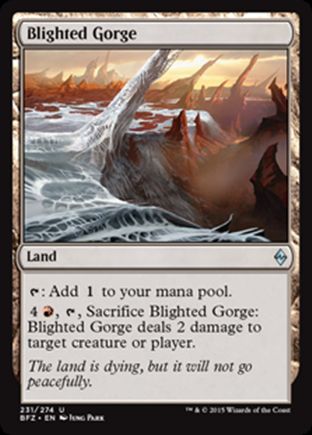 Oracle tekst

Land
T: Add C.
4R, T, Sacrifice Blighted Gorge: It deals 2 damage to any target.

Rating na 0 stemmen

Er is nog niet op deze kaart gestemd.

Tournooi info

Legal in: Modern, Legacy, Vintage, Commander

NederMagic denkt mee

We hebben alle decks op de site voor je doorzocht en gekeken welke 20 kaarten het meest met Blighted Gorge samen worden gespeeld.
Klik hier voor het lijstje

Geef commentaar op Blighted Gorge
Zoek decks met Blighted Gorge
Blighted Gorge toevoegen aan je watchlist:
Versie uit Battle for Zendikar / Alle versies