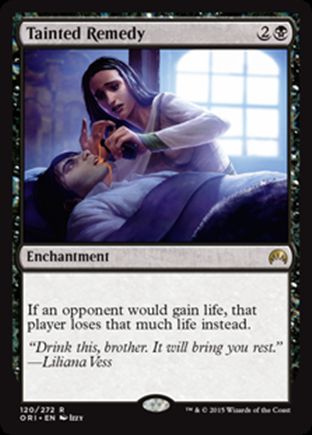 Oracle tekst

Enchantment
If an opponent would gain life, that player loses that much life instead.

Rating na 0 stemmen

Er is nog niet op deze kaart gestemd.

Tournooi info

Legal in: Modern, Legacy, Vintage, Commander

Officiele rulings

6/22/2015
If more than one replacement effect tries to apply to a life gain event, the player who would gain life chooses the order in which they apply. For example, if a player who controls Alhammarret's Archive would gain 3 life while Tainted Remedy is on the battlefield, that player may choose to have the 3 life become doubled to 6 life and then lose 6 life. The player may also choose to apply Tainted Remedy first, turning "gain 3 life" into "lose 3 life." Alhammarret's Archive would then not apply.

6/22/2015
Having more than one Tainted Remedy on the battlefield doesn't have any noticeable effect on life gain. Once the effect of one Tainted Remedy applies, there is no life gain for the others to apply to.



NederMagic denkt mee

We hebben alle decks op de site voor je doorzocht en gekeken welke 20 kaarten het meest met Tainted Remedy samen worden gespeeld.
Klik hier voor het lijstje

Geef commentaar op Tainted Remedy
Zoek decks met Tainted Remedy
Tainted Remedy toevoegen aan je watchlist:
Versie uit Magic Origins / Alle versies