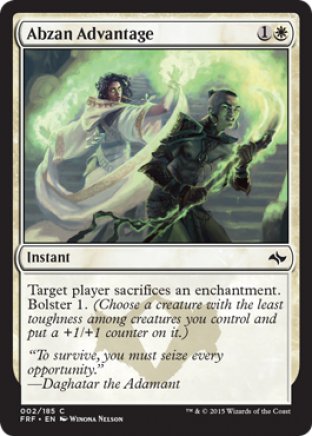 Oracle tekst

Instant
Target player sacrifices an enchantment. Bolster 1. (Choose a creature with the least toughness among creatures you control and put a +1/+1 counter on it.)

Rating na 0 stemmen

Er is nog niet op deze kaart gestemd.

Tournooi info

Legal in: Modern, Legacy, Vintage, Commander

Officiele rulings

11/24/2014
You can target any player with Abzan Advantage, even if that player doesnít control an enchantment.

11/24/2014
The enchantment will have already left the battlefield when you bolster 1.

11/24/2014
Bolster itself doesnít target any creature, though some spells and abilities that bolster may have other effects that target creatures. For example, you could put counters on a creature with protection from white with Abzan Skycaptainís bolster ability.

11/24/2014
You determine which creature to put counters on as the spell or ability that instructs you to bolster resolves.



NederMagic denkt mee

We hebben alle decks op de site voor je doorzocht en gekeken welke 20 kaarten het meest met Abzan Advantage samen worden gespeeld.
Klik hier voor het lijstje

Geef commentaar op Abzan Advantage
Zoek decks met Abzan Advantage
Abzan Advantage toevoegen aan je watchlist:
Versie uit Fate Reforged / Alle versies