Whispering Madness informatie
Serie: Gatecrash (GTC)
Rarity: Rare
Geef commentaar op Whispering Madness
Whispering Madness komt voor in
Serie
Normaal
Foil
Gatecrash

7

0,40

-

1,00
Commander 2016

-

0,35
Wie ruilt deze kaart

[]
Nickname
#
Foil
Kobbe (40)
1
0
Maarten (10)
1
0
Roy (177)
2
0
Wouter Vermeer (69)
1
0
tim dokter (29)
4
0
wvttk (137)
1
0
Juldax (39)
2
0
PR Patiwael (37)
1
0
Jan (120)
2
0
Marnix de Jong (49)
1
0
Paul van Gent (15)
1
0
KansLooz (48)
1
0
Bas Maessen (231)
1
0
Tom S (Almere) (106)
1
0
Zee (4)
1
0
Ichi
1
0
Brian Keeman (10)
1
0
Elmar Evers (10)
1
0
Bjorn (50)
1
0
Max Raterink
1
0
Vick (53)
3
0
Mathijs van Nimwegen (32)
1
0
* Dit is het aanbod van Whispering Madness uit Gatecrash. Als een kaart in meerdere series zit kun je die apart aanklikken hierboven. Klik op de getallen om direct naar iemands collectie te gaan. De leden die het meest recent zijn ingelogd staan bovenaan. Leden die meer dan 14 dagen niet zijn ingelogd worden niet vermeld.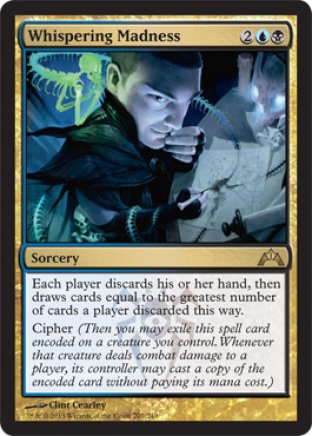 Oracle tekst

Sorcery
Each player discards their hand, then draws cards equal to the greatest number of cards a player discarded this way.
Cipher (Then you may exile this spell card encoded on a creature you control. Whenever that creature deals combat damage to a player, its controller may cast a copy of the encoded card without paying its mana cost.)

Rating na 0 stemmen

Er is nog niet op deze kaart gestemd.

Tournooi info

Legal in: Modern, Legacy, Vintage, Commander

Officiele rulings

1/24/2013
Each player draws cards simultaneously. If this causes a player to draw more cards than are left in their library, that player will lose the game. If this causes all players to do so, the game is a draw. (In multiplayer games, multiple players drawing from an empty library will cause those players to lose although the game may continue.)

1/24/2013
Youíll draw cards before deciding which creature (if any) Whispering Madness will be encoded on.

4/15/2013
The spell with cipher is encoded on the creature as part of that spellís resolution, just after the spellís other effects. That card goes directly from the stack to exile. It never goes to the graveyard.

4/15/2013
You choose the creature as the spell resolves. The cipher ability doesnít target that creature, although the spell with cipher may target that creature (or a different creature) because of its other abilities.

4/15/2013
If the spell with cipher doesnít resolve, none of its effects will happen, including cipher. The card will go to its ownerís graveyard and wonít be encoded on a creature.

4/15/2013
If the creature leaves the battlefield, the exiled card will no longer be encoded on any creature. It will stay exiled.

4/15/2013
If you want to encode the card with cipher onto a noncreature permanent such as a Keyrune that can turn into a creature, that permanent has to be a creature before the spell with cipher starts resolving. You can choose only a creature to encode the card onto.

4/15/2013
The copy of the card with cipher is created in and cast from exile.

4/15/2013
You cast the copy of the card with cipher during the resolution of the triggered ability. Ignore timing restrictions based on the cardís type.

4/15/2013
If you choose not to cast the copy, or you canít cast it (perhaps because there are no legal targets available), the copy will cease to exist the next time state-based actions are performed. You wonít get a chance to cast the copy at a later time.

4/15/2013
The exiled card with cipher grants a triggered ability to the creature itís encoded on. If that creature loses that ability and subsequently deals combat damage to a player, the triggered ability wonít trigger. However, the exiled card will continue to be encoded on that creature.

4/15/2013
If another player gains control of the creature, that player will control the triggered ability. That player will create a copy of the encoded card and may cast it.

4/15/2013
If a creature with an encoded card deals combat damage to more than one player simultaneously (perhaps because some of the combat damage was redirected), the triggered ability will trigger once for each player it deals combat damage to. Each ability will create a copy of the exiled card and allow you to cast it.



NederMagic denkt mee

We hebben alle decks op de site voor je doorzocht en gekeken welke 20 kaarten het meest met Whispering Madness samen worden gespeeld.
Klik hier voor het lijstje

Geef commentaar op Whispering Madness
Zoek decks met Whispering Madness
Whispering Madness toevoegen aan je watchlist:
Versie uit Gatecrash / Alle versies