Elbrus, the Binding Blade informatie
Serie: Dark Ascension (DKA)
Rarity: Mythic
Geef commentaar op Elbrus, the Binding Blade
Elbrus, the Binding Blade komt voor in
Serie
Normaal
Foil
Dark Ascension

1

3,50

-

8,95
FTV Transform

-

4,50
Wie ruilt deze kaart

[]
Nickname
#
Foil
Winant (32)
2
0
Roy (178)
1
0
Ingmar (33)
1
0
Frank Bouwmeester (30)
1
0
TimFakkel Arnhem (262)
1
0
Arnyx (45)
1
0
Kobbe (40)
1
0
Koen Dekker (31)
2
0
Bjorn Van der Zanden (53)
1
0
crazedspeed (5)
1
0
Cornholio
0
1
Paul Dokkum (3)
1
0
kapitar (34)
1
0
Jelle L (Zwolle) (131)
1
0
Ronald Van de Molen
1
0
ambrosius (31)
1
0
Tony (46)
1
0
Chris072 (62)
1
0
* Dit is het aanbod van Elbrus, the Binding Blade uit Dark Ascension. Als een kaart in meerdere series zit kun je die apart aanklikken hierboven. Klik op de getallen om direct naar iemands collectie te gaan. De leden die het meest recent zijn ingelogd staan bovenaan. Leden die meer dan 14 dagen niet zijn ingelogd worden niet vermeld.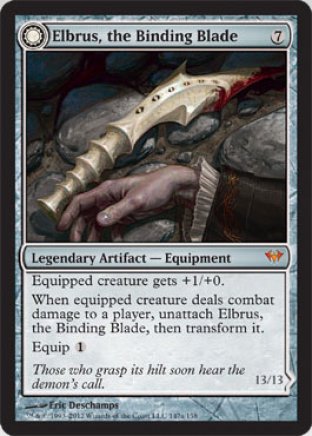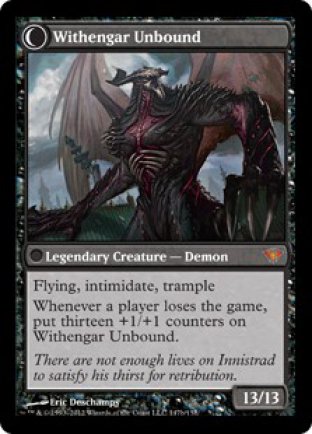 Oracle tekst

Legendary Artifact - Equipment 13 / 13
Equipped creature gets +1/+0.
When equipped creature deals combat damage to a player, unattach Elbrus, the Binding Blade, then transform it.
Equip 1

Rating na 10 stemmen












Tournooi info

Legal in: Modern, Legacy, Vintage, Commander

Officiele rulings

1/22/2011
The "legend rule" checks only for permanents with exactly the same name. Elbrus, the Binding Blade and Withengar Unbound can be on the battlefield at the same time without either going to its owner's graveyard.

1/22/2011
Elbrus will transform even if you are unable to unattach it (most likely because the equipped creature died).

1/22/2011
Withengar's triggered ability will trigger no matter how a player loses the game: due to a state-based action (as a result of having a life total of 0 or less, trying to draw a card from an empty library, or having ten poison counters), a spell or ability that says that player loses the game, a concession, or a game loss awarded by a judge.

1/22/2011
In a multiplayer game using the limited range of influence option (such as a Grand Melee game), if a spell or ability says that you win the game, it instead causes all of your opponents within your range of influence to lose the game. This is another way by which Withengar's ability can trigger.

7/13/2016
For more information on double-faced cards, see the Shadows over Innistrad mechanics article (http://magic.wizards.com/en/articles/archive/feature/shadows-over-innistrad-mechanics).



NederMagic denkt mee

We hebben alle decks op de site voor je doorzocht en gekeken welke 20 kaarten het meest met Elbrus, the Binding Blade samen worden gespeeld.
Klik hier voor het lijstje

Geef commentaar op Elbrus, the Binding Blade
Zoek decks met Elbrus, the Binding Blade
Elbrus, the Binding Blade toevoegen aan je watchlist:
Versie uit Dark Ascension / Alle versies