[MH1] Modern Horizons
Forum: Nieuwe Releases *
2-3-2019 16:29:00 door
Arjan Kuijper (Zaandam) (250)





Scroll: [boven|reacties|beneden]




"What if," the whispers went, "What if they made a set that skipped Standard and went straight to Modern? Think of the things they could print!"

Think about it we did. And we came up with some wild, exciting stuff.
Announcing Modern Horizons, the first set designed to skip Standard legality and aim straight for Modern.

Releasing June 14, Modern Horizons contains 249 new-to-Modern cards (254 total), with a mix of reprints not yet legal in Modern, and new cards that celebrate both Modern and Magic's rich history. Modern Horizons will release on Magic Online June 13.

Modern Horizons boosters on Magic Online will be priced at $6.99.

But why wait that long? Modern Horizons is going to have Prerelease events at local game stores June 8–9!

This can all be a bit difficult to parse without some examples, so let's show you just a taste of what Modern Horizons has in store: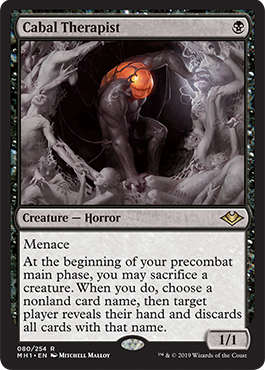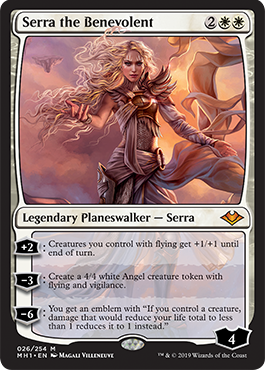 Powerful new options mixed with flavorful updates for favorite characters means Modern Horizons is going to be a wild ride. The set is full of cards that build up favorite Modern strategies, create new ones, and bring plenty of flavor to matches where Modern cards are legal.

Previews start at the end of May, so hold on tight. Change is on the horizon
bron: hier
[reageren]

Reacties (6)

Scroll: [boven|reacties|beneden]

20-5-2019 17:53:00 door
Johannes



De Modern Horizons previews zijn begonnen.
Flusterstorm
krijgt een reprint als de Buy-a-box promo, en er komt een soort tribal commander staple:
Morophon, the Boundless

Legendary Creature - Shapeshifter (mythic)
Changeling (this card is every creature type.)
As Morophon, the boundless enters the battlefield, choose a creature type.
Spells of the chosen type you cast cost





less to cast. This effect reduces only the amount of colored mana you pay.
Other creatures you control of the chosen type get +1/+1.
6/6

Gaaf, maar die gaat dus alleen werken in een 5-color tribal deck

Denk dus niet een staple, maar zeer zeker een toffe general! Slivers zou een leuke zijn bijvoorbeeld.

21-5-2019 22:49:00 door
steffan A.K.A <widdie>
(
59
)




Dat valt wel mee toch? Als commander kan hij ook prima in een twee of drie kleurig tribal deck. Dan haal je er nog steeds flink wat value uit. Plus dat hij een commander is voor alle rare tribals die nog geen commander hadden (squirrels, centaurs, spectres, homarids, kavu, etc. Oké dat zijn allemaal geen denderende tribals, maar het opent wel de mogelijkheid tot een geinig thematisch commanderdeck. En deze boy geeft dan net wat extra value aan je creatures)

21-5-2019 22:52:00 door

Jense (Utrecht)
(
8
)




Een staple houdt in dat hij in vrijwel ieder deck gespeeld wordt, zo is
Goblin Warchief
een staple voor goblin decks en
Swords to Plowshares
een staple voor witte decks. Het is zeker een toffe kaart (Jellyfish tribal ftw!) maar geen staple.

22-5-2019 20:39:00 door
steffan A.K.A <widdie>
(
59
)




Klopt, ik zie dat ik de post van Leon niet heel goed gelezen had. Het is inderdaad geen staple, maar gewoon een geinige kaart.

Er komt een nieuwe 5-color sliver:
hier
The First Sliver ziet er enorm cool uit! Zoals iemand in die thread ook al zegt; slivers lijken weer op slivers (van tempest block).

Scroll: [boven|reacties|beneden]